A Treehouse, Geodesic Dome, Hobbit Home, and Other Rare New England Homes for Sale
Would you rather live in a luxury treehouse 20 feet above the ground, or a Swiss chalet-style single-family in the suburbs?
---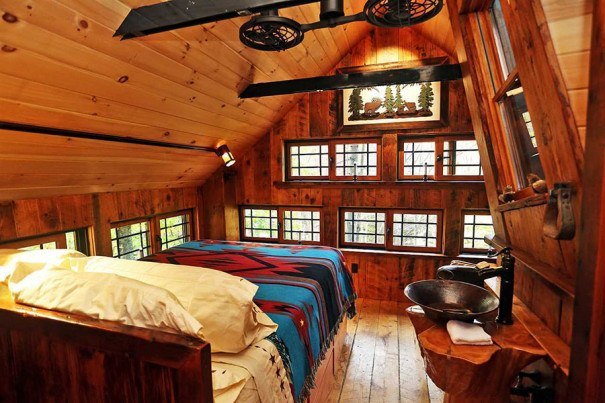 Photos via Coldwell Banker
A Dramatic Treehouse in the Woods
88 Bay Point Road, Newbury, NH
Price: $649,000
Size: 815 square feet
Bedrooms: 2
Baths: 1
Twenty feet above the ground, this two-bedroom house in the trees boasts multiple decks and balconies to enjoy the wooded views. Situated on five-plus acres, there's plenty of room to explore and build upon. And you don't even have to lug your furnishings into the forest—it's being sold fully equipped, tree stump table included.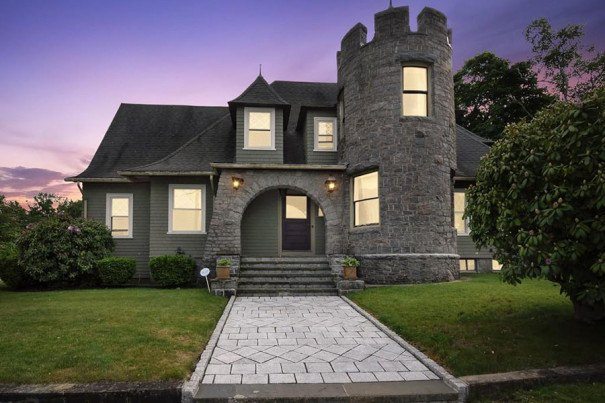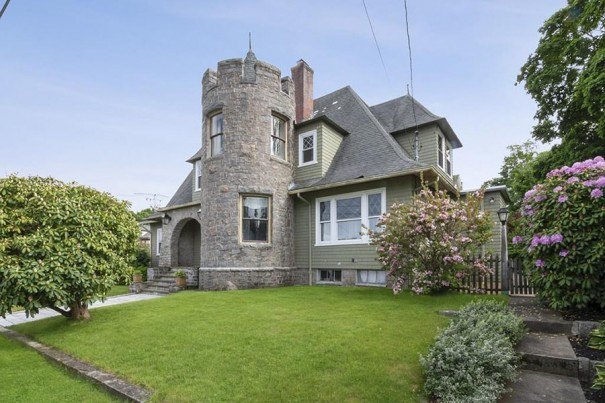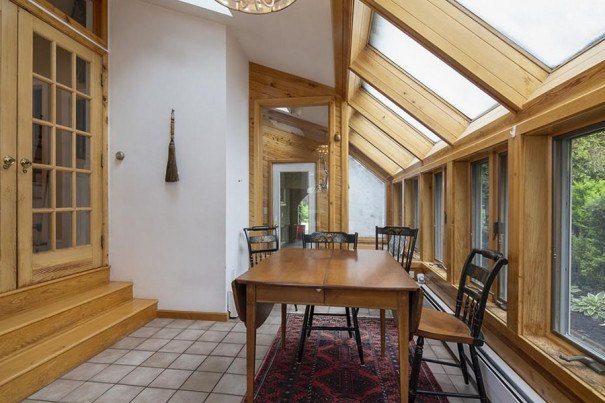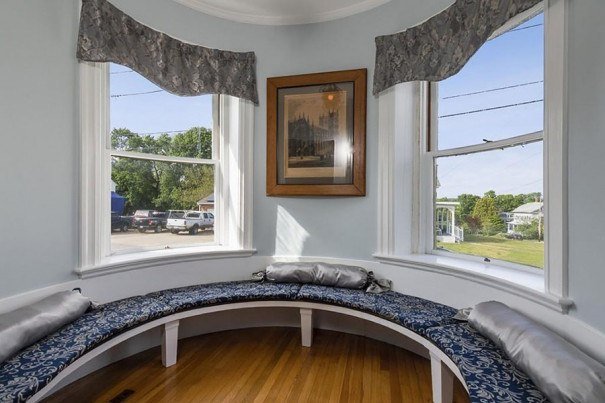 Photos courtesy of Lila Delman Real Estate
A Single-Family-Meets-Medieval-Castle
37 Fairview Ave., West Warwick, RI
Price: $479,900
Size: 3,526 square feet
Bedrooms: 4
Baths: 2.5
Built at the turn of the 20th century, this royal construction once belonged to local mill owners. The crenelated tower and arched stone portico serve up major curb appeal, but inside, the circular sitting room and tiled sunroom are similarly eye-catching.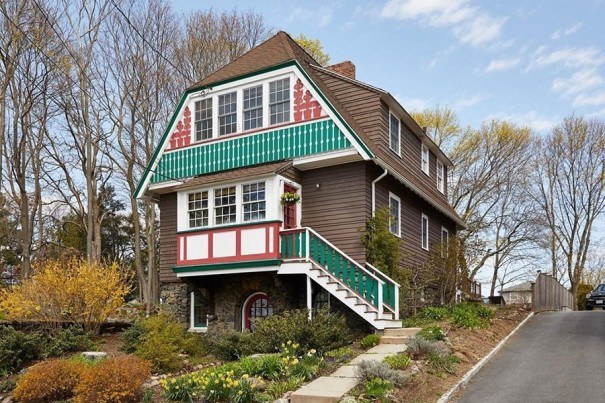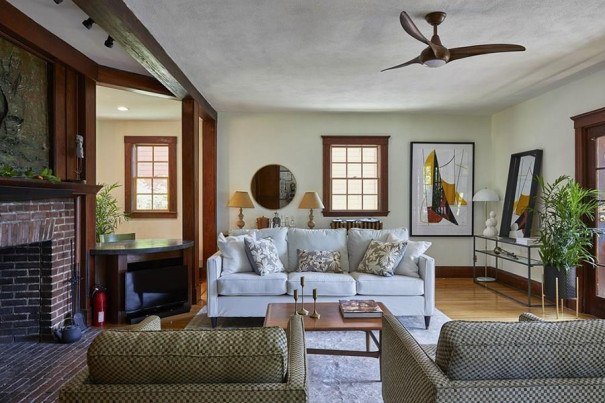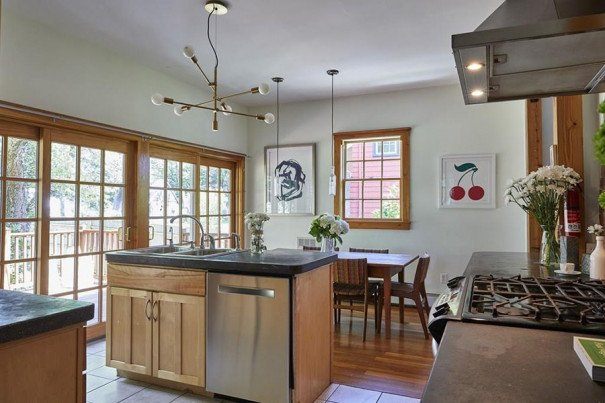 Photos via Compass
A Swiss Chalet in an Arlington Historic District
109 Crescent Hill Ave., Arlington
Price: $895,000
Size: 1,803 square feet
Bedrooms: 3
Baths: 2
With its chocolate brown siding and red-and-green embellishments, this charming home looks like an oversized gingerbread house that somehow landed on a residential street in a Boston suburb. As punchy as the exterior design is, the simple, modern interior is wholly relaxing and homey.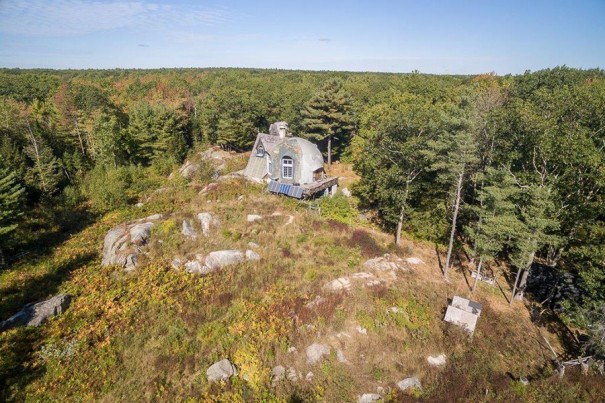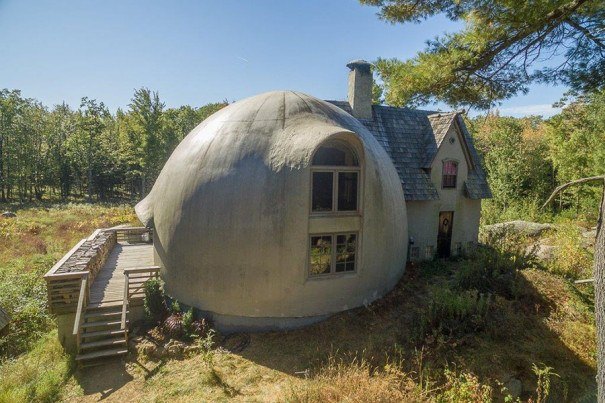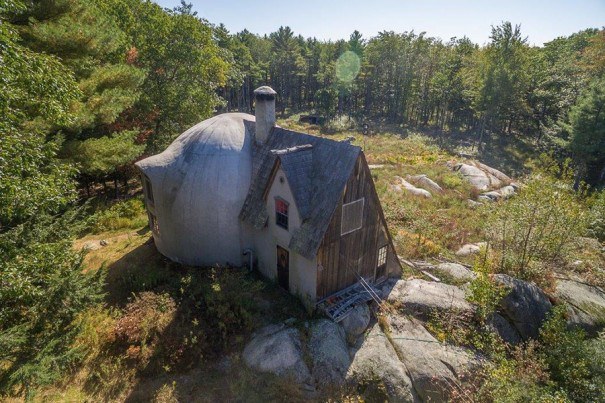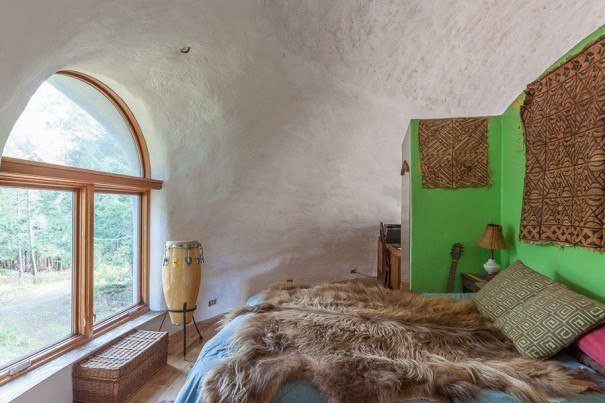 Photos via pack maynard real estate
A Surreal Stucco Studio
34 Road To Misery, Kennebunkport, ME
Price: $679,000
Size: 1,477 square feet
Bedrooms: 3
Baths: 1
This singular, dome-shaped retreat feels like a mashup of a hobbit-hole (with the way it blends into the landscape like a gigantic rock) and a Santorini cave house (with its soothing, white stone interior walls). Except it's neither here nor there—the sole owners of this home designed it themselves as a one-of-a-kind abode on 43 rugged, exquisite acres in Kennebunkport, and named it "Road to Misery" as an inside joke.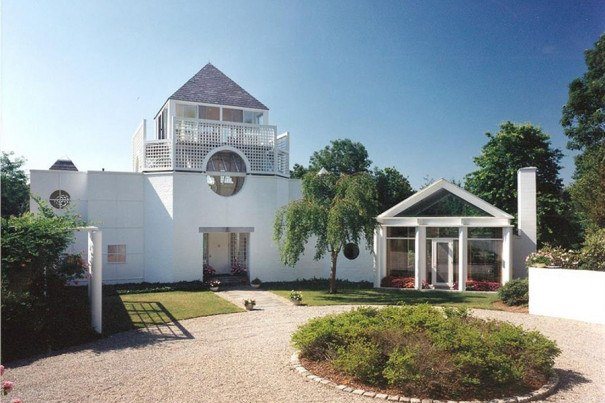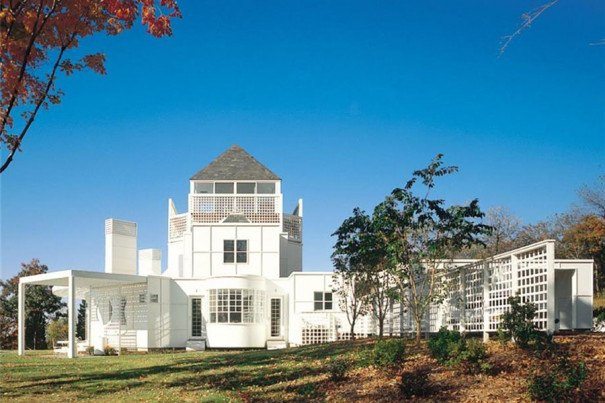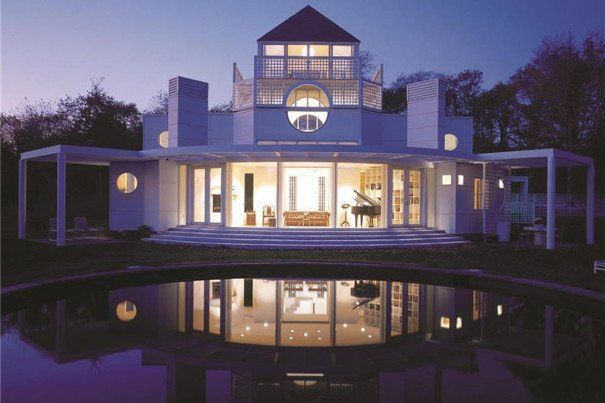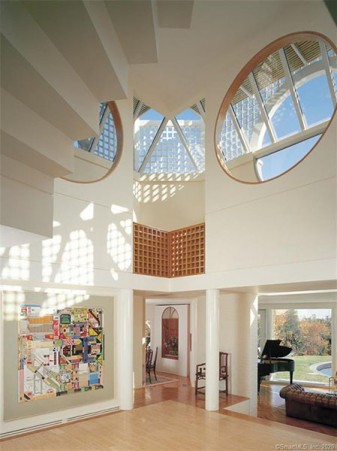 Photos by newman architects
An Octagonal and Contemporary Home in Connecticut
27 Enoch Drive, Woodbridge, CT
Price: $1,250,000
Size: 4,127 square feet
Bedrooms: 3
Baths: 3.5
Windows ring this geometric, avant-garde work of architecture, boasting views of Long Island Sound. Visitors can wind all the way up the spiral staircase observatory at the tippy top, where the panoramas get even better.
---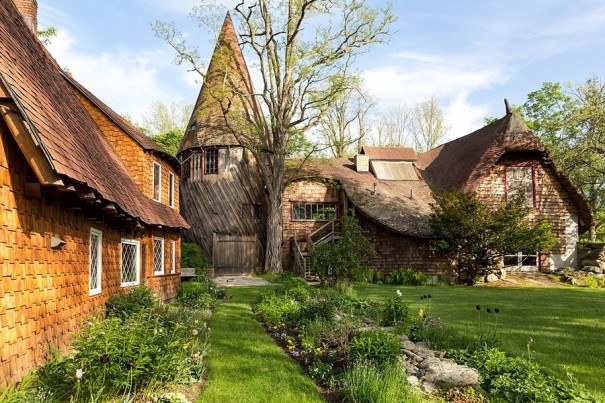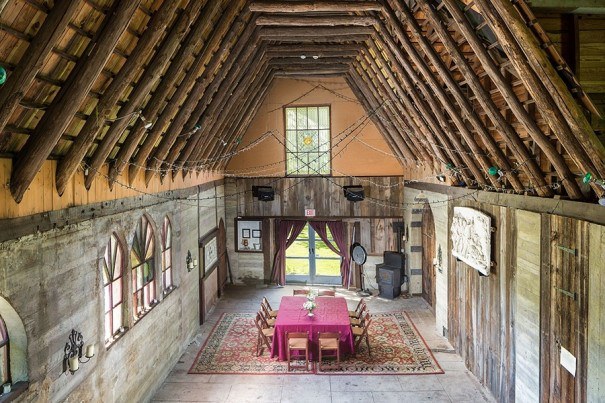 Photos via ren nikerson via william pitt sotheby's international realty
A Western Mass. Estate Pulled from A Fairy Tale
75-77 Main Road, Tyringham
Price: $ 1,185,000
Size: 7,750 square feet
Bedrooms: 7
Baths: 6
You might recognize this magical property from an On the Market story a little while ago–it's not easily forgotten. But since then, the price has dropped to $1,185,000 for the asphalt-roof Colonial, silo-style studio, "Gingerbread House" banquet hall, and the rest of the four-acre property.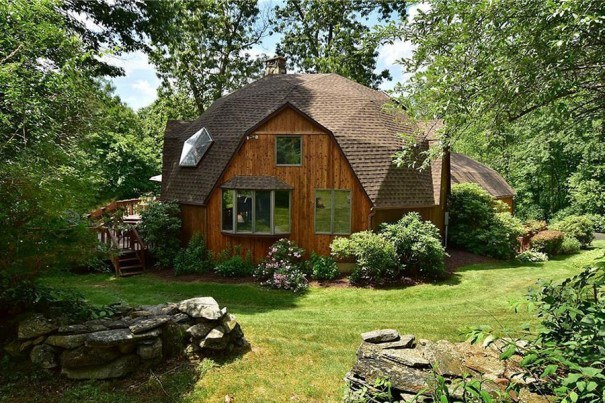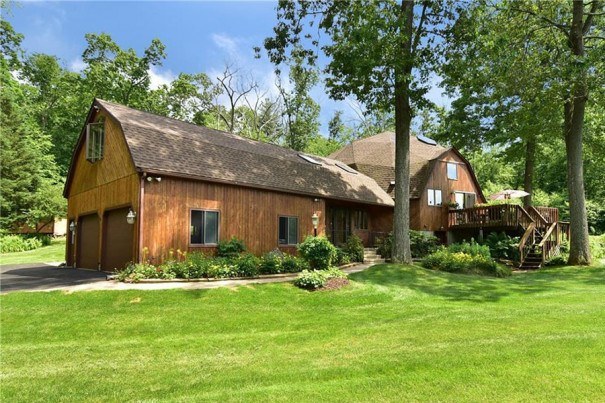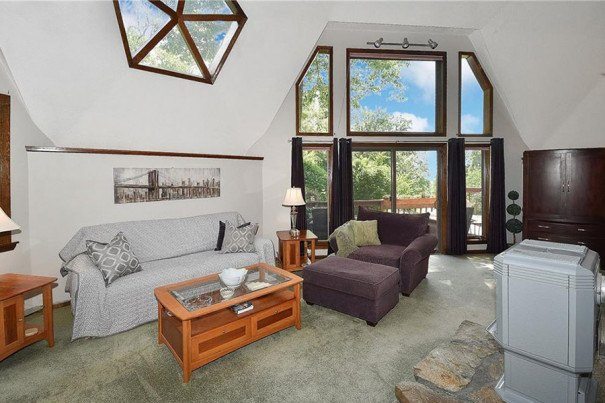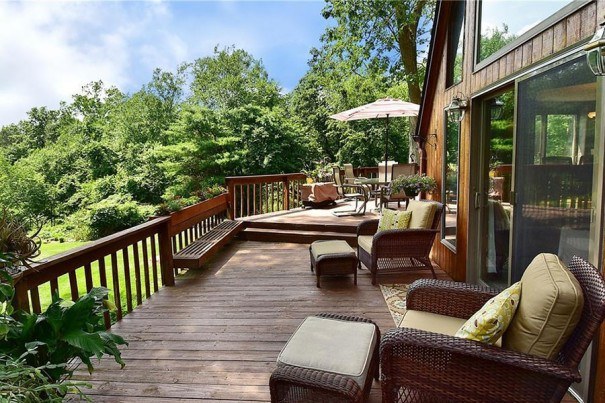 Photos via Sentry Real Estate
A Geodesic Dome Home
16 Timber Lane, Ellington, CT
Price: $429,900
Size: 3,699 square feet
Bedrooms: 3
Baths: 3.5
This rare home's igloo-shaped frame is made up of 63 triangles, which, according to the listing agent, makes it able to support ten times the weight of a typical home. If the design looks familiar, that may be because the architect, Buckminster Fuller, was the same mastermind behind Disney World's Epcot.
---