So You Want to Live in Bay Village
---
Sign up for our weekly home and property newsletter, featuring homes for sale, neighborhood happenings, and more.
At only 25 acres, Bay Village is Boston's smallest official neighborhood. But what it doesn't have in size, Bay Village makes up for in history and character. Originally built on infilled marshes and wetlands (hence its name) Bay Village has gone through many reinventions. It's the neighborhood where Edgar Allen Poe was born. In the early 20th century, it was home to film distribution centers like Columbia Pictures and Paramount. And during Prohibition, it became a hotbed for speakeasies. Even just ten years ago, Bay Village had a reputation for prostitution, with sex workers strolling Church Street at night. But remnants of all of those times are long gone. Bay Village is now a quiet residential community filled with picturesque brick rowhouses, dotted with sunken gardens and pocket parks. These days, the most obnoxious visitors are intoxicated bachelorette parties heading to Jacque's Cabaret (an institution in its own right) or the droves of tourists flocking to Mike & Patty's in search of gooey breakfast sandwiches.
There aren't a ton of spots to hang out that are technically within neighborhood boundaries. The popular Italian mainstay Erbaluce closed in 2018 after a decade of operation, so that the building could be developed into condos. But other spots, like the new restaurants at the Ink Block development, are just 10 minutes away on foot. In fact, residents say one of the best parts of living in Bay Village is its proximity to so many other central neighborhoods. Those looking to buy in Bay Village should keep in mind that due to its size and demand, inventory is low and price tags are astronomically high. Cheaper buildings tend to need work and anything brand new is most likely (what else?) a luxury condo.
---
Prices at a Glance
Median condo home value: $1,070,000
Median single-family home value: $1,860,000
Median one-bedroom rent price: $2,530 per month
---
What You Can Buy
A Historical Detached Single-Family
1 Bay St., Boston
Price: $1,699,000
Size: 1,440 square feet
Bedrooms: 2
Bathrooms: 2.5
A Condo in a New Boutique Building
27 Isabella St. #1, Boston
Price: $2,395,000
Size: 2,065 square feet
Bedrooms: 2
Bathrooms: 2.5
---
Public Transit Options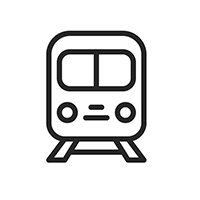 There are no MBTA stops in Bay Village, but several are close by. They include the Arlington and Boylston stops on the Green Line and the Back Bay and Tufts Medical Center stops on the Orange Line.
---
What a Real Estate Agent Says
Bay Village is nestled right between Back Bay and the South End, two of the most desirable neighborhoods in Boston. The location is central to the rest of Boston, so demand for Bay Village homes is tremendous. The six-block neighborhood, which feels more like a small village, is quaint, tranquil, and full of charm and architectural treasures.

Although Bay Village gives residents immediate access to the world-class shopping of Back Bay and the renowned restaurants of the South End, it's an independent neighborhood. That being said, oftentimes homes for sale in Bay Village will be listed as 'the South End,' so buyers should be aware of this when searching for Bay Village real estate.
—Annette Given, The Charles Realty
---
Grocery Stores
Whole Foods Ink Block, South End
348 Harrison Ave., Boston
Star Market, Back Bay
53 Huntington Ave., Boston
---
Perks
Residents say the proximity to neighborhoods like the South End, Back Bay, Chinatown, and the Theatre District is one of the greatest parts of living in Bay Village. But despite its central location, the neighborhood still manages to insulate itself from the hustle and bustle outside of it. Take a stroll down Melrose Street and you'd hardly know you're so close to the Mass. Pike or Arlington Street. Plus, it's rare to find such a small neighborhood so chock full of different architectural styles. Constructed to appear as a smaller version of the grand homes on Beacon Hill, Bay Village is filled with Federal and Greek Revival rowhouses. Former commercial spaces, particularly the film distribution centers, feature Art Deco design and embellishments, like the occasional chevron pattern. And we can't forget to mention the Armory of the First Corps of Cadets, more generally referred to as the Castle at Park Plaza. The Romanesque Revival-style castle, which connects Bay Village to Back Bay, looks plucked straight out of medieval times.
---
Did You Know?
Tragedy struck Bay Village on November 28, 1942, when the Cocoanut Grove nightclub went up in flames. While the cause of the fire has long been debated—some believe it was from a match a busboy used to light a bulb, others claim faulty wiring or an air conditioning gas—the inferno was made significantly worse due to the establishment's complete neglect for rules and safety. The club was draped in paper decorations that ignited in a flash, and multiple doors had been bolted shut, leaving the clogged revolving door at the main entrance as the only way out. There were over 1,000 people in the Grove that night, more than twice its capacity. A total of 492 people were killed, and the tragedy became known as the deadliest club fire in history.
While it did lead to the strengthening of fire safety codes, and improved the way we treat burns and post-traumatic stress disorder, the tragedy remains an example of how sheer negligence can cause endless devastation. In recent years, a commemorative plaque dedicated to the people who perished in the fire has caused a bit of a controversy itself. When the area was converted into the Piedmont Park Square luxury condo building, the new owners didn't like the idea of the plaque sitting on their sidewalk. It was moved, prompting locals and family members of those who died to fight back. It now sits at the corner of Piedmont Street and Cocoanut Grove Lane.
Check out a collection of the BPL's Cocoanut Grove photographs here.
HOME VALUES and rent prices BY ZILLOW. ICONS VIA GETTY IMAGES.
---