So You Want to Live in Roslindale
---
Sign up for our weekly home and property newsletter, featuring homes for sale, neighborhood happenings, and more.
Chances are that if you live in Roslindale, you love Roslindale. Possessing a combination of cultural diversity and pastoral beauty (the place was named for the literal hills and dales in the area) you won't find in many other Boston neighborhoods, Roslindale was part of Roxbury until it was annexed to the city of Boston in 1873. Several decades ago, some spots in Roslindale Square fell into disrepair, exhibiting vacant storefronts and a lack of activity. But the neighborhood's downtown has since undergone a renaissance, with a reincarnation into Roslindale Village—though you'll find plenty of locals don't bother calling it that. Now, new businesses are popping up all the time in the Village—the highly-anticipated Distraction Brewing Co. opened its doors earlier this year, while a classic mainstay like Romano's Pizzeria and Taqueria is an ideal spot eat a slice or burrito on the couch by the back in front of the TV.
Perhaps the most unique aspect of Rozzie is that the area still manages to do what many other parts of Boston fail at: maintaining a true "neighborhood" feel. Less trendy than Jamaica Plain but more lively than West Roxbury, Roslindale residents are a mixed bag of families with deep roots in the neighborhood, young professionals, older retirees, and hipsters (chances are you'll spot a fedora or two). Naturally, real estate prices are increasing as Bostonians seek out affordable neighborhoods where it's actually possible to buy a home and raise a family, and some fear that sense of community that gives Roslindale its spark may be fleeting due to rapid development. Some residents claim there's a bit of distinction between living on the "good" or "bad" side of Washington Street, but the general consensus is a true love for a neighborhood that some Bostonians don't even seem to know exists. Rozzie's plentiful green spaces are truly beloved—particularly the south end of the pristinely maintained Arnold Arboretum, which dips into Roslindale from Jamaica Plain.
The negatives are slim to none. Residents say traffic can be quite bad, but the new dedicated bus lane between the Village to Forest Hills is greatly appreciated by locals who use the bus system. Oh, and the new Target isn't so bad, either.
---
Prices at a Glance
Median list price of all homes: $485,000
Median condo price: $468,000
Average rent price for a one-bedroom: $1,750 per month
---
What You Can Buy
A Renovated Condo in Metropolitan Hill
396 Beech St. #1, Roslindale
Price: $549,000
Size: 1,349 square feet
Bedrooms: 3
Bathrooms: 2
A Top-Floor Two-Bedroom near Arnold Arboretum
67 Walter St. #3, Roslindale
Price: $399,000
Size: 801 square feet
Bedrooms: 2
Bathrooms: 1
---
Public Transit Options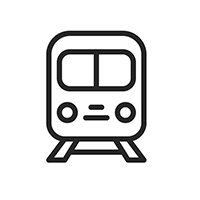 The Roslindale Village stop on the Commuter Rail
Several bus lines to Forest Hills on the Orange Line
---
What a Real Estate Agent Says
Roslindale is especially attractive because it has quite a few single-family homes but retains more of an urban feel than similar neighborhoods like West Roxbury. The demand for housing outstrips the supply, so prospective buyers need to be prepared to bid well above the asking price on properties that have multiple offers. Buyers are pulling out all the stops to try and have their offer stand out to the seller. They're writing personal letters to tug at seller's heartstrings, leveraging escalation clauses, and in many cases, waiving important contingencies from their offer, which can be risky.

The area nestled between the Arnold Arboretum and the Roslindale Village, which is next to the MBTA commuter rail station, tends to be the sweet spot that commands the highest prices of Roslindale. However, as the market has changed, and the Village has become a hip enclave, pretty much all areas walking distance to the Village have sky-rocketed in price. In recent years, Roslindale has had some of the highest appreciation among all of the Boston neighborhoods. It isn't too late to get into Roslindale though. Great neighborhoods in Roslindale such as Metropolitan Hill and Prospect Hill both have lovely housing stock made up of mostly single- and two-family homes at more affordable prices and are still reasonable close to the Village.
—Josh Muncey, The Muncey Group
---
Grocery Stores

Village Market
30 Corinth St., Roslindale

Roche Bros
1800 Centre St., West Roxbury

---
Perks
Rozzie residents (and lots of folks from nearby neighborhoods) praise the Best of Boston-winning farmer's market on Saturday mornings in Adams Park, which is filled with fresh produce and plenty of fun activities for little ones. Once you've shopped, head over to the Roslindale Substation, a giant Classical Revival building that converted electrical currents for streetcars until the '70s. It's become the hot spot in town as of late. When it was turned into a temporary Trillium Beer Garden last year, you'd find the space packed every night of the week with everyone from older folks to hipster parents sporting tattoos and strollers. The following summer, Spaceus took over the building to create an inventive popup art space.
---
Did You Know?
On March 14, 1887, a 7 a.m. train on the Boston & Providence Railroad was headed to Forest Hills Station from Dedham when seven of its cars plunged 40 feet down from the Bussey Bridge, commonly known as the "Tin Bridge," over South Street. The tragedy killed 23 (though some articles from the time claim 37) and injured a hundred more. Sadly, the collapse was found to be caused by shoddy design and poor maintenance, and the disaster led to stronger regulation of bridge safety standards. The disaster led to a boom in Roslindale's population, seeing as over 50,000 people subsequently came out to view the crash's wreckage. When folks saw the neighborhood had both natural beauty and a prime location near the city, many chose to move there. Today, a stone arch bridge, which replaced the one destroyed in the collapse, is still very much intact. (You can see photos and illustrations here.)
HOME PRICES AND RENT PRICES BY ZILLOW. ICONS VIA GETTY IMAGES.
---