News
Game On: Boston Magazine's Battle of the Burger Is Back
At this epic showdown, attendees will taste their way through 15 burgers and crown the best.
---
Burger enthusiasts, break out your stretchy pants: The food fight of the year is back. Boston magazine's annual Battle of the Burger returns on September 9, pitting 15 local restaurants against one another to determine who grills up the best patty around. Earlier this summer, in the first round of the competition, over 30 local spots threw their hats in the ring as the self-proclaimed best burger around, and thousands of Boston magazine readers voted on which 15 to send to the battleground to prove it. Who will be crowned champion: an Angus patty or luscious wagyu? Classic toppings or a little bit funky? Grab a ticket now to try them all and cast your vote.
This year's battle unfolds at Encore Boston Harbor's south lawn—remember the fun we had there last year?—so expect to spend lots of time outside, and dress accordingly. Even if the event moves inside due to rain, things will still get a little messy with plenty of special sauces in play. Chorizo fat aioli, Thousand Island dressing, steakhouse mayo, and mango habanero glaze are all on the menu.
Your ticket is an all-access pass to the event's food vendors, and the lineup will include plenty of tantalizing options. Lincoln Tavern & Restaurant, for example, is coming from South Boston with an American wagyu burger topped with Muenster cheese, smoked bacon aioli, and a sunny-side-up quail egg, served on a potato bun, while Lewis' Bar & Grille is coming all the way in from Norwood with its "famous Lewis burger": Angus beef with mayo, lettuce, tomato, onion, ham, and egg salad. There are even a few exciting options for the mayo- and aioli-averse, like Lolita Tequila Bar's "ranchero sliders": beef brisket meatballs, tomato ranchero, and green chili queso fundido on griddled sweet buns.
And there will be beef of the metaphorical kind, too: Wheelhouse, last year's champion and a Boston magazine favorite, will be back to defend its crown; will anyone be able to stop it? (The Wheelhouse team hasn't shared its burger details with us yet, so we'll be surprised right alongside you, and we can't wait to find out what's on the menu.)
What's a burger cookoff without beverages? The price of admission includes two or three full-sized drink tickets, depending on which ticketing level you choose, with more available for purchase. (The higher-priced event ticket grants you an hour of early access and the additional drink.) High West Distillery and LaCroix will be among the drink companies onsite, offering a variety of refreshing drinks, boozy and not. And there'll be entertainment, too, including a DJ and screens showing college football—so don't worry about missing the game, sports fans.
Once you've had your fill, head to the relaxation area sponsored by Ascend Cannabis to digest and ponder what you've eaten. (No cannabis products will be available onsite, but you can try uninfused samples from the brand.) Then, cast your vote and wait to see who's crowned the champion of the 2023 Battle of the Burger.
$90-$116, Saturday, September 9, 12 p.m. to 4 p.m., Encore Boston Harbor, 1 Broadway, Everett, bostonmagazine.com.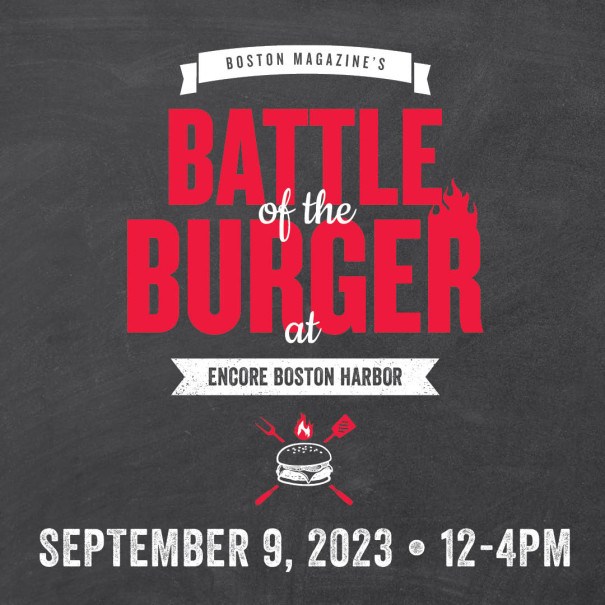 ---