Where to Find the Most Romantic Restaurants in Boston Right Now
From an effortlessly elegant farm kitchen in Cambridge, to a chic cocina on the Fort Point Channel.
---
Devoted foodies and restaurant newbies love The Feed. Sign-up now for our twice weekly newsletter.
At a time when calls for physical distancing have supplanted even most intimate instincts, we raise a toast to any restaurant that can still manage to create a romantic setting. Luckily, these dimly lit dining rooms have all the trappings—not to mention, the exceptional food—you're looking for in a date-night locale. We've updated our list of all-time favorites with availability during the pandemic; many remain open for dine-in service, and if not, their takeout options will still help to stoke culinary passions at home. Plus, we've added a few additional options that have us smitten right now—with info on Valentine's Day 2021 menus, while we're at it. [Last updated: February 2021]
The Beehive
Normally, the cabaret-style stage and seating area at the Beehive is a particularly romantic perch for clinking cocktails and splitting globally inspired plates, all while receiving a side of serenade from jazz or world-music acts. Even with performances kaput during COVID-19, though, this subterranean, bohemian-style enclave remains the quickest trip you can take to (the Boston version of) Paris's saucy Pigalle quarter. Valentine's Day: Special dine-in and takeout specials are available from Feb. 11 through Feb. 14, including four-course to-go dinners anchored by truffled beef short rib, as well as sized-for-two cocktails like the Bobbing For Apples—bourbon with fig-infused cider and mulling spices.
541 Tremont St., Boston, 617-423-0069, beehiveboston.com.
Deuxave
Chef Chris Coombs' fine French-American restaurant in the Back Bay is so romantic, there's even a particular table that's famous for hosting wedding proposals (with rings delivered inside sugar spheres and other sweets, no less). But even if you're not popping the question, the gorgeously plated duck confit with green harissa aioli, fluke crudo with aji amarillo emulsion, and other elegant options still set the mood. If you opt for carry-out, add one of pastry chef Giselle Miller's "Passion Packed Pints" of artisan ice cream in flavors like peanut butter with grape jelly. Valentine's Day: Splurge on a five-course tasting menu ($249 per person) for a truly unique experience in a very unique year.
371 Commonwealth Ave., Boston, 617-517-5915, deuxave.com.
Harvest
If there's a more romantic winter-patio locale than the outdoor fireplace-side tables at Harvest—well, we've yet to find it. It's not just about the environs, though: Chef Nick Deutmeyer crafts impeccable New American cuisine for dinner (behold the lobster and shrimp mousseline ravioli with tarragon sauce) and day-date-worthy brunch service (hello, fried chicken with foie gras waffles). Meanwhile, pastry chef Josh Livsey, alum of Food Network's Best Baker in America, composes stunning sweet endings, like a decadent hazelnut opera torte, for devouring alongside a hot rum-and-cider laden with decadent dulce de leche. Valentine's Day: Besides the regular offerings, Harvest has a Sweetheart Dinner for Two package ($110) available for takeout, which can be paired with a box of heart-shaped treats ($20), too.
44 Brattle St., Cambridge, 617-868-2255, harvestcambridge.com.
Ten Tables
As its name suggests, this Jamaica Plain mainstay is a pretty intimate affair even when regulations haven't limited indoor-dining capacity. So imagine how special it will feel when you're among the very few tucked inside to tuck into house-made rigatoni with spicy sausage, seared salmon with jasmine rice and capers, or a chocolate terrine. Can't get a limited reservation? Opt for takeout, or book a spot for one of the weekly Monday wine dinners (table-for-two dinners with glass pairings) well in advance. Valentine's Day: Ten Tables will lay out a three-course prix fixe menu. Starters include seared halloumi with brown butter hazelnuts and balsamic, while main courses cover Moroccan-style chicken and seafood-laden spaghetti.
597 Centre St., Jamaica Plain, 617-524-8810, tentables.net.
Uni
Uni is always a sleek and sexy spot, and the Back Bay izakaya (housed inside the Eliot Hotel) has managed to keep up those appearances even in the takeout era—heck, it even sends its omakase out in pretty white boxes that would normally be used for chocolates. But the restaurant is next-level romantic in 2021: Its approach to pandemic-era dining involves repurposing hotel rooms as semi-private dining pods. No suite holds more than two tables, and they even pipe in the overhead music. You don't need to spend the night, of course, but if you were looking for a romantic stay-cation escape, this is room service won't be beat. Valentine's Day: No special tricks up its sleeve this year, but those suites are already an extraordinary idea.
370A Commonwealth Ave., Boston, 617-536-7200, uni-boston.com.
The Most Romantic Restaurants in Boston
You know 'em, you love 'em—and they're back in action. Here's our recap of the best places to find the most romantic restaurants in Boston, with details on their status during the pandemic. Watch this space for more updates!
Bondir
Status: Open for takeout and delivery on Wednesdays, Fridays, and Sundays from 3-6 p.m. Orders must be placed by 9 a.m. on preceding day.
Dining at this Cambridge restaurant is akin to a comfortable night in at a well-appointed farmhouse. That's thanks mainly to chef Jason Bond's inventive, elegantly simple cooking that brings new dishes to the table every night, comprised of many local ingredients from his Carlisle garden—but the fresh flowers on the intimate tables and the glowing, rustic fireplace don't hurt, either.
279A Broadway, Cambridge, 617-661-0009, bondircambridge.com.
Bistro du Midi
Status: Temporarily closed. 
Sweeping views of the Public Garden help set the scene from the sophisticated, second-floor dining room. Sharing the menu-staple chocolate soufflé is the perfect end to a meal of classic French cuisine with a New England accent from a Best of Boston chef.
272 Boylston St., Boston, 617-426-7878, bistrodumidi.com.
Fat Hen
Status: Open Tuesday through Sunday for indoor dining, takeout, and delivery. 
The skinny little La Brasa sister restaurant impresses with contemporary, seasonal Italian cuisine, affordable and well-balanced aperitifs, and a super-cool vibe created by moody lighting and chill beats.
126 Broadway, Somerville, 617-764-1612, fathenboston.com.
The Haven
Status: Open Tuesday through Sunday for indoor and outdoor dining, as well as takeout. 
Warm, intimate, and casual, Boston's premier Scottish gastropub is comfortable and cool—plus, the menu of uncommon fare like cullen skink (a traditional Scottish chowder), herb-roasted chicken with courgette and carrot, and lamb haggis is not only great comfort food, but also a fun conversation starter.
2 Perkins St., Jamaica Plain, 617-524-2836, thehavenjp.com.
La Morra
Status: Open Wednesday through Sunday for indoor dining, takeout, and delivery. 
The key to a long-term relationship with a date-night spot? Consistent comfort, which the married chef and sommelier behind this Brookline Village favorite have provided for more than 15 years. Rustic, refined cicchetti such as fried sage leaves with anchovy; comforting northern Italian cuisine, like the signature house-made tagliatelle bolognese; and a curated selection of wines are right at home in the brick-and-beam dining room.
48 Boylston St., Brookline, 617-739-0007, lamorra.com.
Lolita Cocina & Tequila (Fort Point)
Status: Open daily for indoor dining, takeout, and delivery. 
This sprawling space ups the drama on date-night with red chandeliers and stained glass against stone walls and velour appointments—particularly on a sultry night when the Channel-facing windows let in the sea breeze. But it's not just about atmosphere here: Culinary director Tom Berry (Yvonne's, Ruka, Mariel) oversees a menu of fun and fresh Mexican cuisine—and table-side tequila shots.
253 Summer St., Fort Point, Boston, 617-369-0931, lolitamexican.com.
Mooncusser Fish House
Status: Temporarily closed, but preordered takeout dinners from sibling restaurant 80 Thoreau can be picked up here on Thursdays. 
The ground-level Moon Bar is a great first-date spot, where you and your Tinder match can meet over a couple of cocktails or a half-carafe of wine, paired with dollar oysters (Monday-Saturday, 4-6 p.m.) and casual fare like grilled swordfish tacos and a burger with fries. When you're ready to take things to the next level, head upstairs to the intimate, third-floor dining room of Mooncusser Fish House. From a white-clothed table overlooking the twinkling city streets below, you'll enjoy each other's company over fresh and surprising takes on classic New England seafood.
304 Stuart St., Boston, 617-917-5193, mooncusserfishhouse.com.
Oleana
Status: Open daily for indoor and outdoor dining, as well as takeout. 
Many memorable evenings have started with the intoxicating aromas emanating from chef Ana Sortun's award-winning Eastern Mediterranean kitchen. Whether you settle in at a table nearby the dining-room wood stove or outside in the fairy-like garden, dinner at this Cambridge classic is always a feast for the senses.
134 Hampshire St., Cambridge, 617-661-0505, oleanarestaurant.com.
Ristorante Euno
Status: Open Thursday through Saturday for indoor dining and takeout. 
The Old World charm of the North End is perhaps no more charming than at this hidden gem, which is modeled after a country cottage in Sicily. During warmer months, opt for a table overlooking Salem Street; in wintertime, get cozy at a table in the wine cellar by the fireplace.
119 Salem St., North End, 617-573-9406, eunorestaurant.com.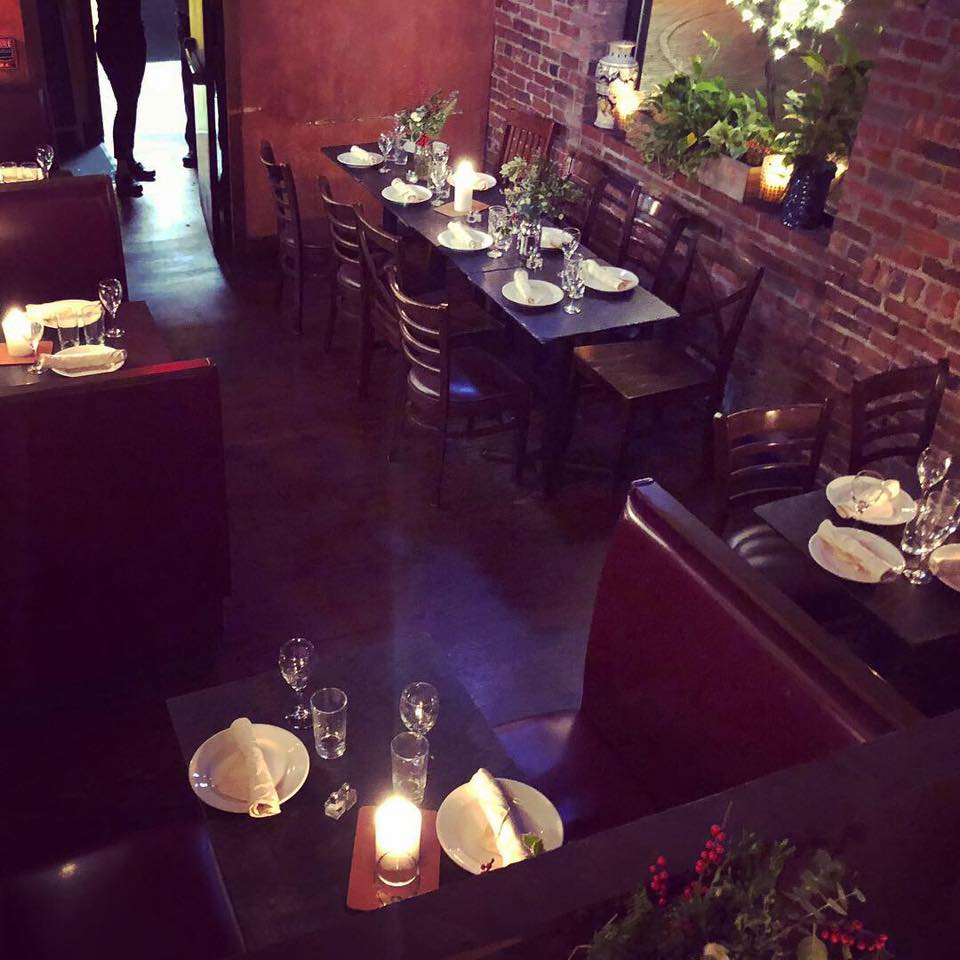 Candles aglow at Sophia's Grotto. / Photo via Facebook
Sophia's Grotto
Status: Open daily for indoor and outdoor dining, as well as takeout. 
The leafy courtyard is a dreamy setting to while away an afternoon in Roslindale Village over wood-fired pizzas, and Mediterranean-inflected snacks like goat cheese-stuffed artichoke hearts wrapped in prosciutto.
22R Birch St., Roslindale, 617-323-4595, sophiasgrotto.com.
Talulla
Status: Open Wednesday through Sunday for indoor and outdoor dining, as well as takeout. 
The married couple who took over this romantic-restaurant stalwart (it was formerly married-couple Tim and Bronwyn Wiechmann's T.W. Food) imbue the same loving care into the new dining destination. Chef Conor Dennehy pours passion into his tasting menus, such as a scallop-hibiscus crudo that was inspired by a family trip to the Yucatan; while sommelier Danielle Ayer graciously works the room and wines.
377 Walden St., Cambridge, 617-714-5584, talullacambridge.com.
---