Boston's Best Outdoor Dining – 52 Top Patios, Decks & More
From lush hidden gardens in Cambridge to raucous roof decks in downtown Boston, here are the sexiest, liveliest, prettiest, chillest places to dine al fresco this season.
---
Devoted foodies and restaurant newbies love The Feed. Sign-up now for our twice weekly newsletter.
Ashmont Grill
Just off the Ashmont MBTA stop is an al fresco oasis with modern comfort food—wood-grilled lamb chops, Faroe Island salmon with kimchi fried rice, a Pearl hot dog on a grilled bun—plus weekly dollar oysters and whole-animal roasts from chef-owner Chris Douglass. You can also settle on the front patio.
555 Talbot Ave., Ashmont, Dorchester, 617-825-4300, ashmontgrill.com.
Atwood's Tavern
The lushly landscaped deck behind Atwood's Tavern proves a low-key refuge for classic comforts like burgers, Formaggio-curated cheese and charcuterie boards, and macaroni and cheese—not to mention heavy hitters on draft from Lamplighter Brewing, Grimm, and Bantam Cider.
877 Cambridge St., East Cambridge, 617-864-2792, atwoodstavern.com.
Audubon
Traditional dining high-tops and family-style seating make this back patio a prime spot for pre- or post-Fenway noshing. The Boston venture from Trina's Starlite Lounge offers ever-changing small plates, like grilled sambal buffalo wings, and loaded potatoes; entrées like chicken tikka masala, sandwiches, salads, and more—and of course, great cocktails, including a famous margarita.
838 Beacon St., Fenway/Kenmore, Boston, 617-421-1910, audubonboston.com.
The Automatic
This dog-friendly, Hampshire Street expanse is shaded with retro blue-teal umbrellas, and during peak hours, it has a small, outdoor bar dishing out cold cans and cocktails. It also occasionally hosts events, like the Auto Flea, or the annual Paella on the Porch with guest chef Jamie Bissonnette. But on any given day in season, this patio is a prime location for Kendall Square-area lunches, post-work snacks and drinks, or full dinner.
50 Hampshire St., Kendall Square, Cambridge, theautomaticbar.com.
B&G Oysters
Descend a few steps to the patio behind the Barbara Lynch Gruppo's oyster bar and you'll find summertime bliss. Under a string of globe lights and a little shade from South End flora (in due time), B&G Oysters is a prime spot to have a selection of fresh bivalves on the half shell, a simple lobster roll, and a glass of wine director Cat Silirie's favorite Chablis.
550 Tremont St., South End, Boston, 617-423-0550, bandgoysters.com.
Banyan Bar + Refuge
The team behind the Gallows is paying due respect to the outdoor space at the former Hamersley's Bistro. Banyan's brick patio is ensconced in strings of warm bulbs and lanterns and lush greenery, and features colorful, comfortable lounge seating in addition to dining tables and a cushioned banquette. No matter where you sit, drinks like a five-spice-infused Painkiller with coconut foam taste great al fresco. The patio opens annually around May 1, and also brings back weekday lunch and weekend brunch for the season, too.
553 Tremont St., South End, Boston, 617-556-4211, banyanboston.com.
The Bar By the Elevator
The One Kendall Square plaza has myriad outdoor dining options. But this weather-dependent outdoor bar (reopening seasonally from June into fall) from co-owner and drinksmith Evan Harrison and the rest of his team at State Park and Mamaleh's is just too much fun. Low-key and low-frills with just a few cocktails, beer and wine selections, and deli-inspired snacks, it's a perfect first (or last) stop of the night.
One Kendall Square, Cambridge, Instagram, thebarbytheelevator.com.
Barcelona Wine Bar (Brookline)
Premium people-watching in Washington Square is part of the allure of this 70-seat outdoor dining area. The space offers partial shade, and the fine folks in charge have blankets available for chilly nights. The menu features shareable tapas like seared foie gras and jamón croquetas. Just here for the wine? There's also a cocktail patio.
1700 Beacon St., Washington Square, Brookline, 617-264-8900, barcelonawinebar.com. 
Bistro du Midi
Overlooking the Public Garden, this 20-seat patio pairs prime views of the park with proper Provençal lunch or dinner. Chef Robert Sisca's French fare is inspired by the farms of coastal New England—think: black pepper tagliatelle with Scituate lobster, chicken with ramp risotto and morels, crusted halibut with Manila clams, and more.
272 Boylston St., Back Bay, Boston, 617-426-7878, bistrodumidi.com.
Bow Market
Somerville's small-scale food hall and maker market has a cool courtyard (with igloo-like shelter in the wintertime) where you can enjoy takeout from Saus, Hooked Fish Shop, Hot Box, and more resident dining options. Booze purveyors Remnant Brewing and Rebel Rebel Wine Bar have their own designated spaces for outdoor sipping—but on special occasions, drinks can come into the courtyard, too.
1 Bow Market Way, Union Square, Somerville, bowmarketsomerville.com.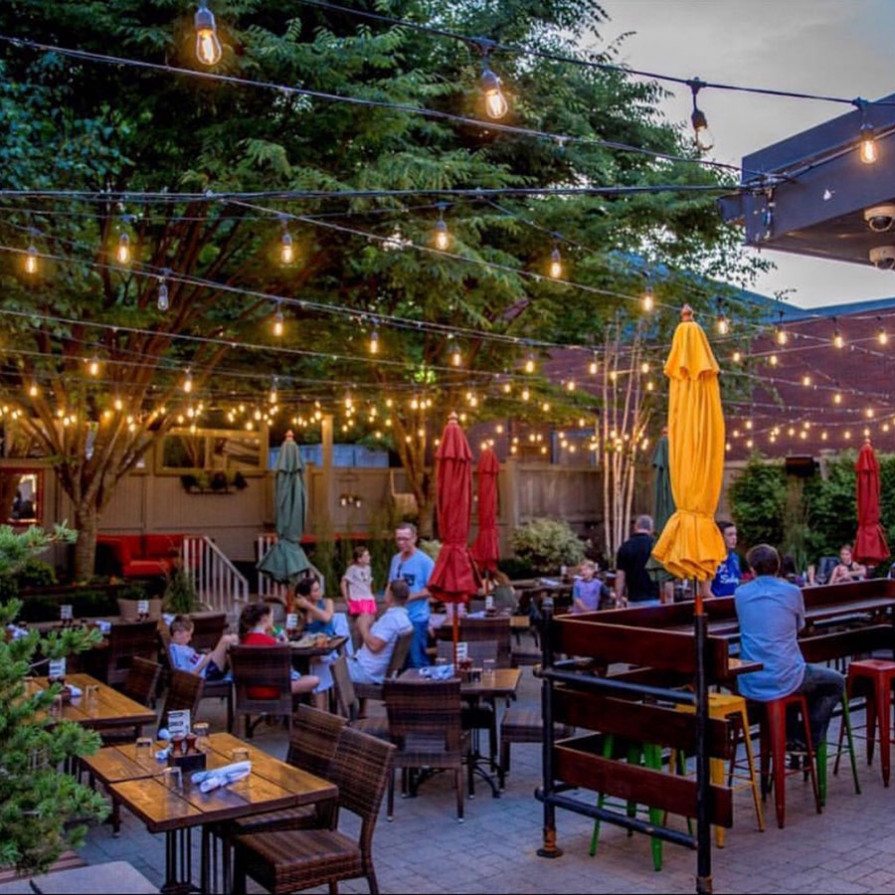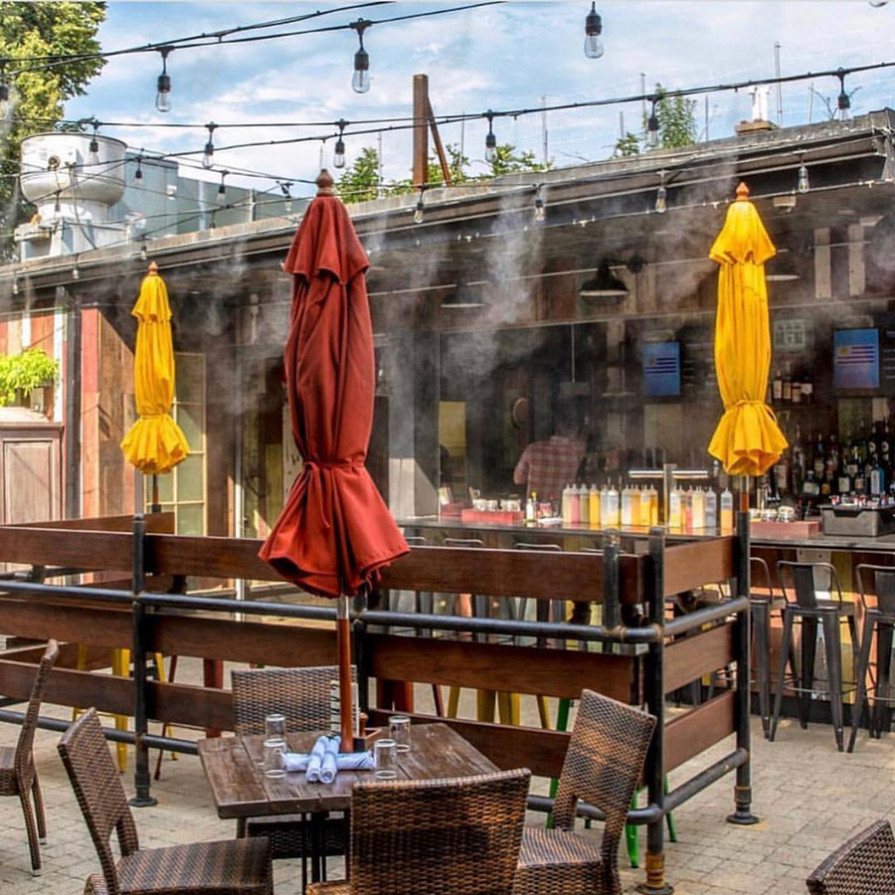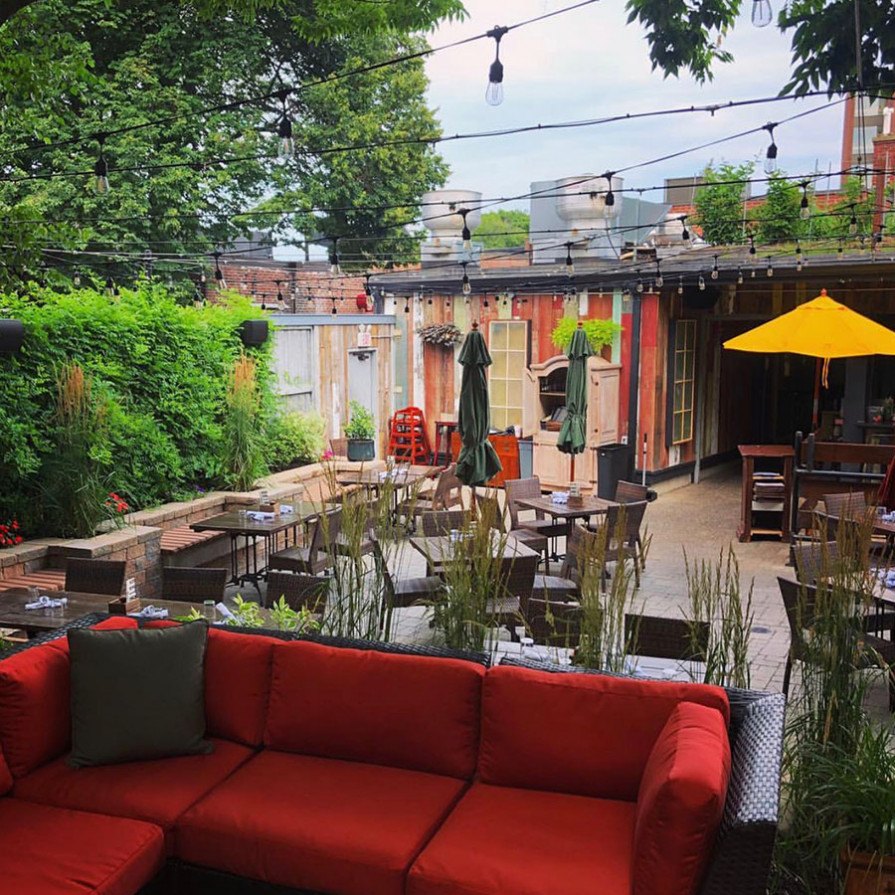 The Bowery Bar
This Lower Mills restaurant debuted in summer 2018 and from the get-go, it's had an impressive patio with various seating options, including an outdoor bar and private lounge spaces that can be reserved for groups. Stay cool thanks to a misting system (!), or stay dry on misty days thanks for retractable awnings being installed in 2019. Besides an expansive menu with everything from crab Rangoon to spicy sausage rigatoni to a chicken sandwich with Brie, there is occasionally live music, and yard games like cornhole.
2261 Dorchester Ave., Lower Mills, Dorchester, 617-698-2261, bowery-bar.com.
Branch Line
The 45-seat dining area is covered and heated, so year-round, it's a fine place to carve into a rotisserie chicken and a big plate of snap pea salad, and sip tulips of Stillwater Artisanal, Shacksbury, and other rare beers and ciders on the funky draft list. But in the warmer months, there's bocce, too.
321 Arsenal St., Watertown, 617-420-1900, branchlinearsenal.com.
Brewer's Fork
This beer garden offers a sense of place: You can see the Bunker Hill Monument peeking above the landscaped flora and string lights. Chef John Paine's wood-fired pizzas and small plates (like wood-roasted, Plum Island steamers, and daily crudo options) pair perfectly with co-owner Michael Cooney's selection of top-tier local and Belgian brews.
7 Moulton St., Charlestown, 617-337-5703, brewersfork.com.
Bronwyn
Rustic, family-style tables clothed in blue-and-white gingham give this biergarten a decidedly Bavarian feel. It's the perfect location to take in chef Tim Wiechmann's bretzel with horseradish mustard, wursts, schnitzel, and liters of lagers, hefeweizens, and radlers.
255 Washington St., Union Square, Somerville, 617-776-9900, bronwynrestaurant.com.
Buttermilk & Bourbon
Comfortable lounge seating, a six-seat bar, ample heat towers and shade umbrellas—plus dining tables, of course—make this Comm. Ave. patio an ideal spot for after-work drinks and dinner. Did we mention there are rotating flavors of house-made soft serve?
160 Commonwealth Ave., Boston, 617-266-1122, buttermilkbourbon.com.
Cambridge Brewing Company
Tucked into One Kendall Square is a patio perfect for a mini beer festival any time chef David Drew breaks out the outdoor grill, which he does a few times a season. Beer garden parties aside, it's a fine place for spent grain-dough pizzas, dollar oysters, and a few rounds of house-made brews like Working Class Hero, a hoppy saison from brewmaster Will Meyers. There's also a standing room, beers-only "swig pen."
One Kendall Square, Bldg. 100, Cambridge, 617-494-1994, cambridgebrewingcompany.com.
Charlie's Kitchen
A classic double cheeseburger, waffle fries, and a brew straight from the 22-draft outdoor bar are storied Harvard Square traditions. The rock-lined, subterranean beer garden is dog-friendly, and it's open year-round, complete with tableside fireplaces.
10 Eliot St., Harvard Square, Cambridge, 617-492-9646, charlieskitchen.com.
Cinquecento
This outdoor lounge—complete with its own bar—is a perfect place to stop after checking out SoWa Open Market. Do some people-watching while exploring Cinquecento's impressive amaro menu and the wide range of trattoria fare. Bonus: This South End spot has ample, free parking.
500 Harrison Ave., South End, Boston, 617-338-9500, cinquecentoboston.com.
City Tap House
Craft beers and fire pits are found in spades at this Fort Point spot. Come for weekend brunch, and stay for a couple rounds of cornhole. Cheers!
10 Boston Wharf Rd., Fort Point, Boston, 617-904-2748, citytap.com.
Committee
Maybe it's the sea breeze, but this hotspot's outdoor cocktail lounge feels a little more laid back than its lively dining room and huge indoor bar. It's the only place you can sip certain patio-exclusive drinks, and it's also a fine place to explore consulting wine director Lauren Friel's extensive list of lesser-known Mediterranean varietals, as well as unique Greek spirits. Want to share some meze with your crew? The seating capacity is 60.
50 Northern Ave., Seaport, Boston, 617-737-5051, committeeboston.com.
Commonwealth
With Broad Canal views, this 120-plus-seat deck is a perfect place to enjoy menu items like seared monkfish, carrot-farro salad with apricots, and house-made cherry-almond ice cream. Plus, the 1960 D100 Dodge pickup truck converted to a refrigerator is probably the coolest outdoor bar around.
11 Broad Canal Way, Kendall Square, Cambridge, 617-945-7030, commonwealthcambridge.com.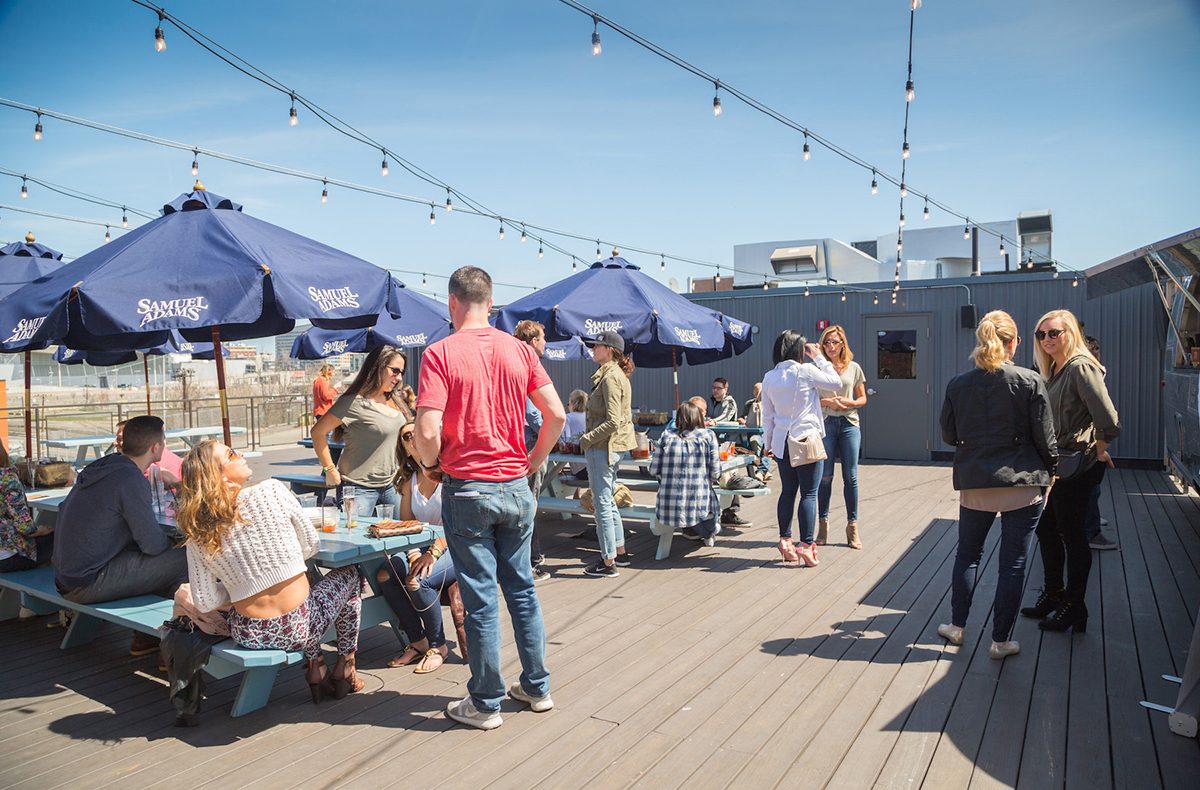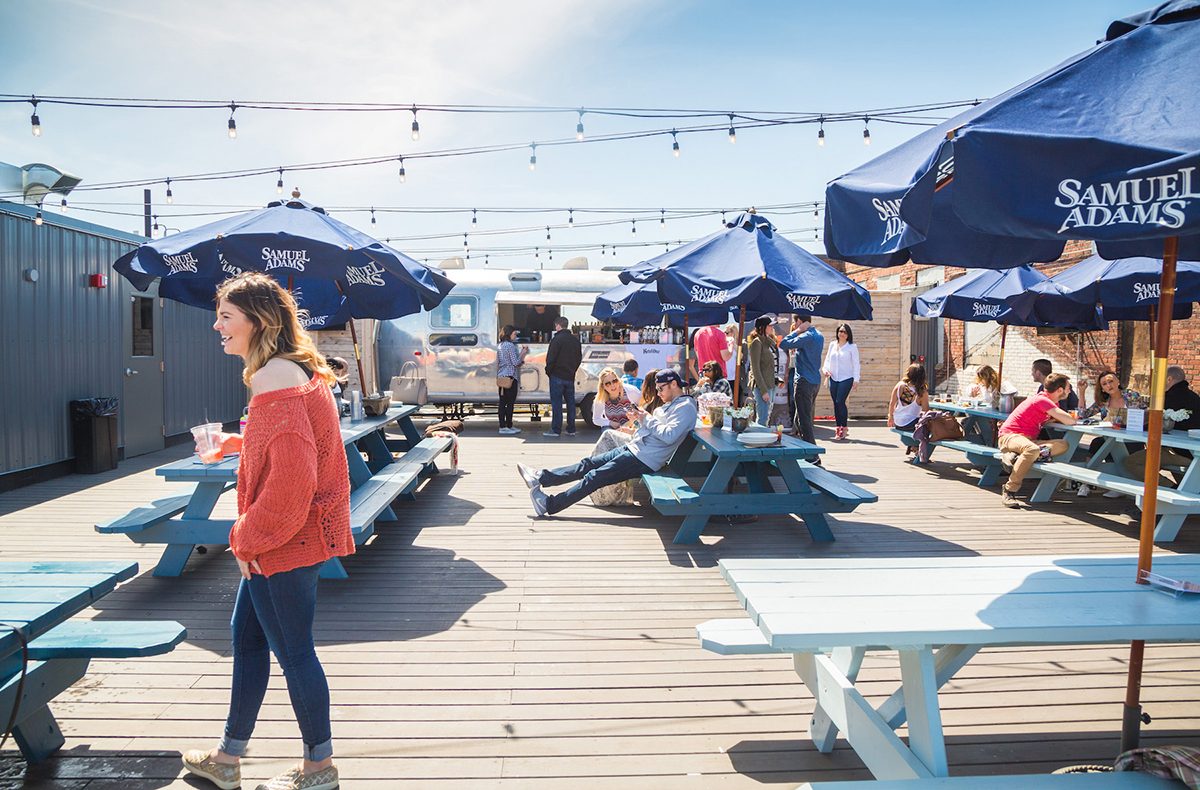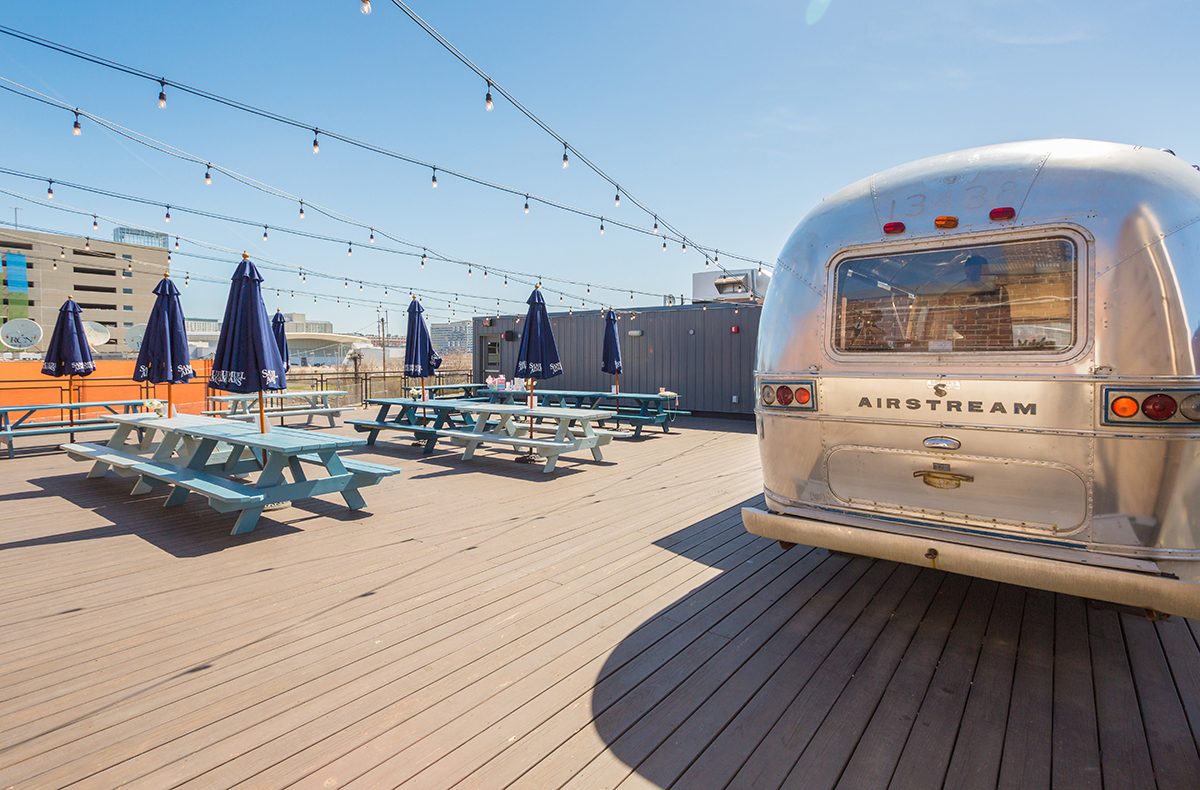 Coppersmith
This Southie spot boasts not only the 75-seat "Porch" out front, but also a vintage Airstream-turned-rooftop bar, the Airdeck. The top-level space has large-format cocktails and craft beer, plus party-friendly barbecue plates, buffalo shrimp, sweet potato tots, and more.
40 W. 3rd St., South Boston, 617-658-3452, coppersmithboston.com.
Deep Ellum
A petite oasis behind this bar features dark-stained wooden walls and greenery—so, just enough shade to enjoy brunch burritos, sausage plates, poutine, and refined comfort-food specials. A similarly inspired setup can also be found outside Cambridge sister spot Lone Star Taco Bar, which is great, because Deep Ellum has proven that European imports, local brews, and craft cocktails are best enjoyed al fresco.
477 Cambridge St., Allston, 617-787-2337, deepellum-boston.com.
Devlin's
This Brighton neighborhood favorite has a large, outdoor dining area hidden in the back. It's an ideal place for meeting friends to share snacks like tuna poke wonton tostadas, blackened swordfish tacos with mango salsa, and charcuterie pizza. The outdoor bar has a robust draft list, and TVs to appease al fresco sports fans.
322 Washington St., Brighton, 617-779-8822, edevlins.com.
Earls Kitchen + Bar
This twinkling roof deck seats more than 200 people across various dining and lounge-style settings. It has a gigantic tree and an ivy-lined wall, and the retractable roof allows for three-season enjoyment.
The Shops at the Prudential Center, 800 Boylston St., Boston, 857-957-0949, earlsrestaurants.com.
Eastern Standard
In the heart of Kenmore Square, Eastern Standard remains the crown jewel of al fresco dining in Boston. You can't go wrong with a plate of oysters and a Whiskey Smash, but don't overlook Eastern Standard's reserve beer list. Next door at the sister cocktail bar the Hawthorne, there's also a cozy lounge, with lush sofas, low coffee tables, and of course, beverage director Jackson Cannon's array of expertly shaken and stirred cocktails.
500 Commonwealth Ave., Kenmore Square, Boston, 617-532-9100, easternstandardboston.com.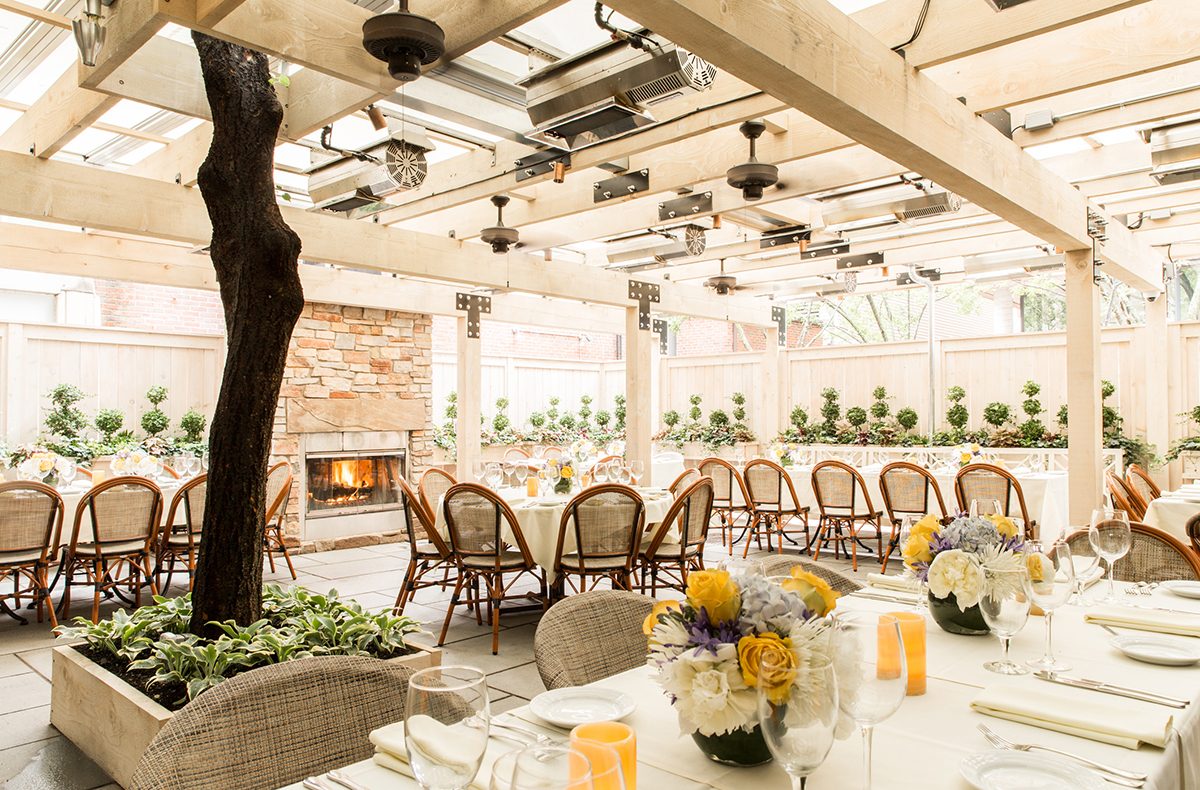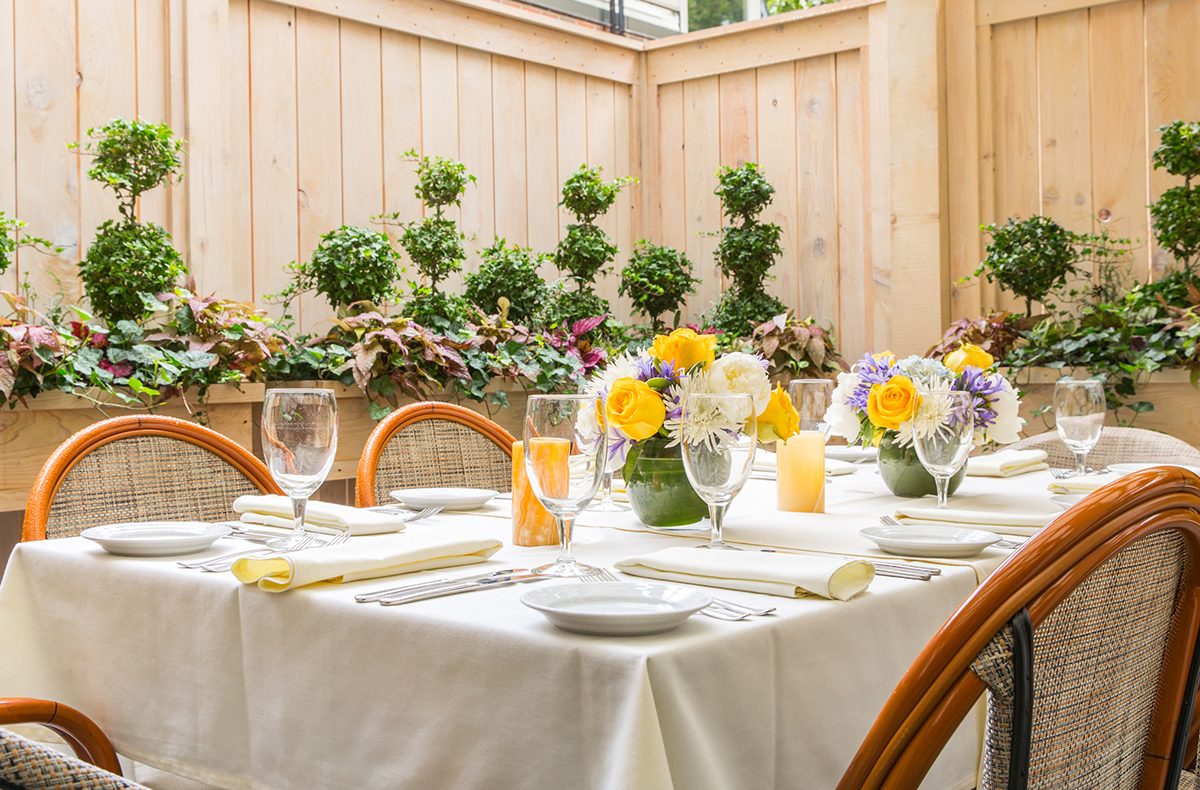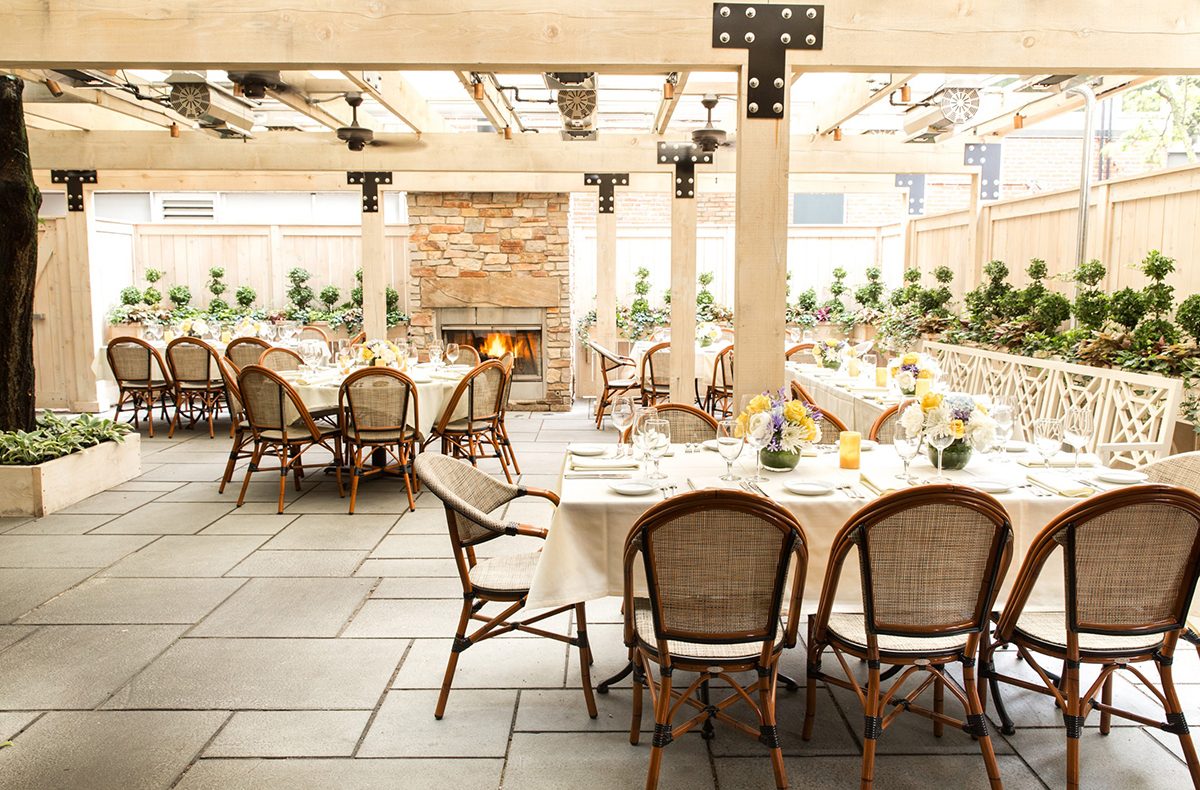 Harvest
Located off a cobblestone path in the heart of Harvard Square, Harvest's enclosed outdoor dining area is one Cambridge's best date spots, particularly on chilly nights when they light up the stone fireplace.
44 Brattle St., Harvard Square, Cambridge, 617-868-2255, harvestcambridge.com.
Hojoko
One major benefit of setting up shop in Fenway's former Howard Johnson Inn is the proximity to the hotel pool. Tim and Nancy Cushman's rollicking Japanese pub extends to 50 seats around the Verb Hotel's retro-chic pool, at high-top tables and lounge chairs underneath retractable awnings. Out front, there are 50 additional seats on the front porch.
1271 Boylston St., Fenway, Boston, 617-670-0507, hojokoboston.com.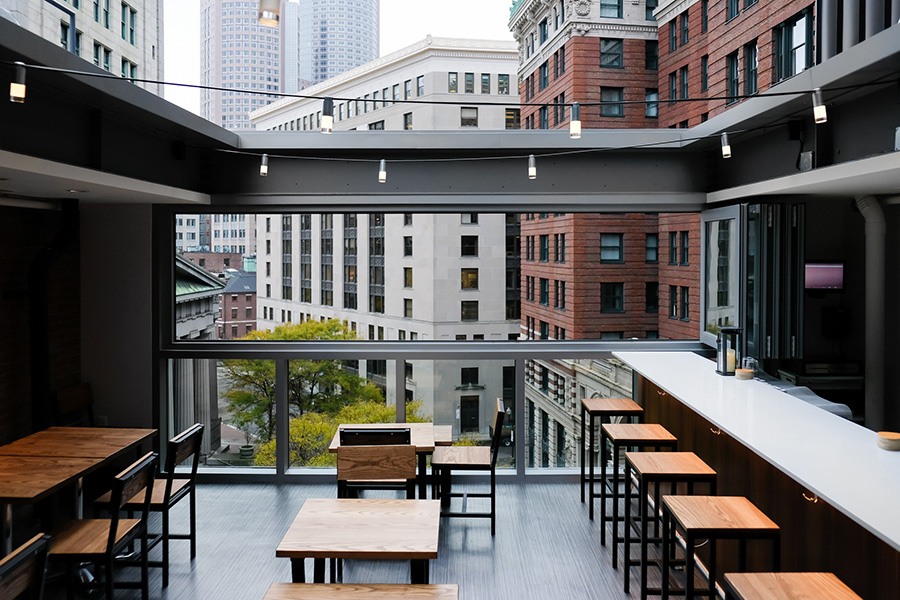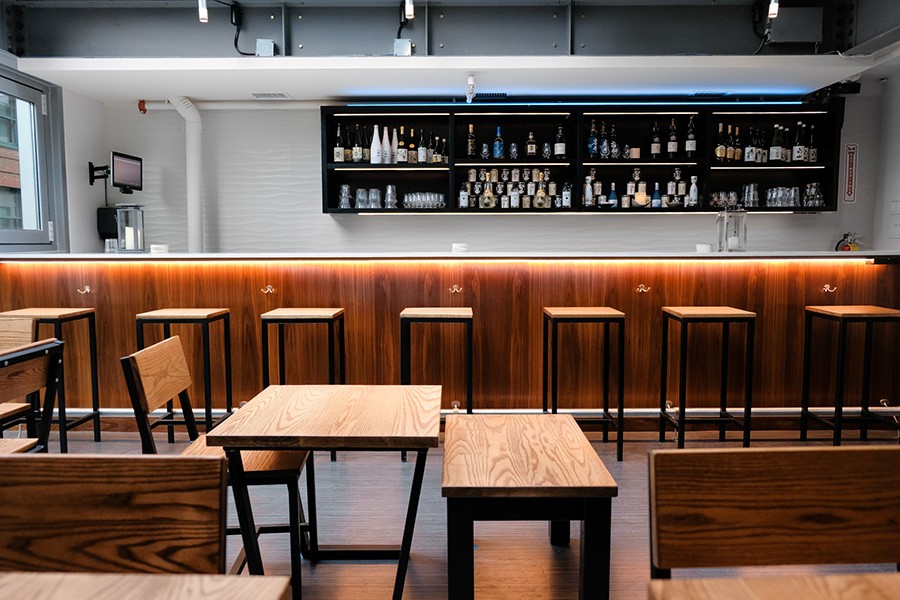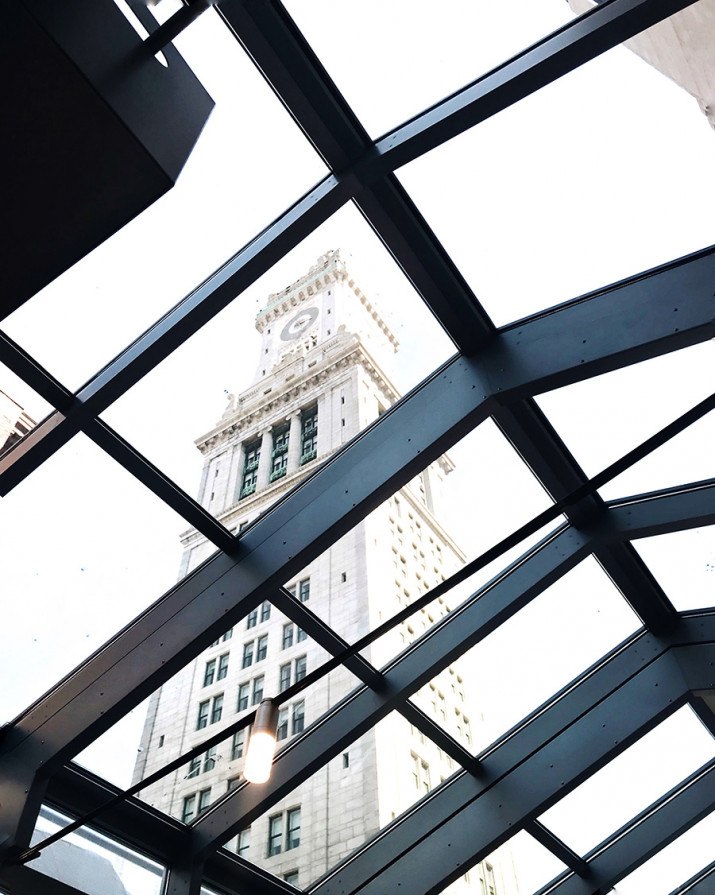 Kamakura
A highly anticipated 2018 opening, Kamakura comes from chef Youji Iwakura (previously of Basho and Uni, among others), and spreads itself over three levels. The top floor is an all-seasons rooftop lounge called Kumo, meant for sipping sake while surrounded by stunning city views.
150 State St., Financial District, Boston, 617-377-4588, kamakuraboston.com.
KO Pies at the Shipyard
This is a truly unique spot overlooking the industrial (and artsy) Boston Harbor Shipyard—for one more summer, at least. Owner Sam Jackson plans to move along from Boston in 2019, and the pie shop might close. But that's a future concern. Now, it's time for Australian meat pies, wedges, and a Coopers (or local craft beer or cider) on the deck. There is cornhole to play, and once the season really gets swingin', they'll throw open the beer service window so you don't have to go back to the bar to keep the party going.
256 Marginal St., East Boston, 617-418-5234, kocateringandpies.com.
Legal Harborside
This three-story behemoth is a stunner in all seasons, but summertime is when it really excels. Grab a pint at nearby Harpoon before hitting up Legal's picturesque patio for some steamers, New England fried clams, and freshly shucked shellfish.
270 Northern Ave., Seaport, Boston, 617-477-2900, legalseafoods.com.
Lolita (Fort Point)
The second location of this cocina y tequila bar has an outdoor bar and seating area along the Harborwalk. The modern Mexican cuisine and renowned margaritas taste right at home inside the gothic-style interior, but they also pair nicely with views of the Fort Point Channel.
253 Summer St., Fort Point, Boston, 617-369-0931, lolitamexican.com.
Lookout Rooftop and Bar
Impress out-of-town guests this summer at this trendy spot. Along with craft cocktails, the seventh-story lounge on top of the Envoy Hotel serves up breathtaking views of the Harbor and the Skyline.
70 Sleeper St., Seaport, Boston, 617-530-1559, theenvoyhotel.com.
Loyal Nine
The patio outside Loyal Nine's café is a quiet spot to sip espresso in the morning. At night, dine on chef Marc Sheehan's oft-changing, rustic New England fare, with its emphasis on native seafood, vegetables, and herbs, like anise hyssop grown right on the deck. Don't miss the refreshing, house-made shrubs and creative cocktails.
660 Cambridge St., East Cambridge, 617-945-2576, loyalninecambridge.com.
Lulu's Allston
There's plenty of room behind this Allston beer bar—about 50 dining seats, plus colorful lounge furniture, cornhole, and a bocce court. Some of the perches are made from repurposed kegs, and the beer theme extends to a screen divider hanging above a standing bar area: It's decorated with tap handles representing some of the 50 craft beverages Lulu's has on draft inside.
421 Cambridge St., Allston, 617-787-1117, lulusallston.com.
Mare Oyster Bar
Prolific North End restauranteur Frank DePasquale's seafood concept has a 70-seat outdoor lounge with fire pits, a retractable awning, and plush seating. It's an ideal setting for the Mediterranean-inflected likes of grigliata di pesce (grilled seafood), daily crudo, and hot and cold lobster rolls, and a glass or two of wine.
3 Mechanic St., North End, Boston, 617-723-6273, mareoysterbar.com.
Naco Taco
This bright and lively patio has a permanently parked food truck dishing out spit-roasted al pastor and smoked chicken thigh tacos, plantains con queso, and more. The Mass. Ave. spot is prime for people-watching while enjoying rounds of margaritas, sangria, and micheladas in the sunshine.
297 Massachusetts Ave., Central Square, Cambridge, 617-945-1548, nacocentral.com.
The Neighborhood
Come springtime, this happening diner moves all service outside onto a gargoyle-guarded patio. Come high summer, it's shaded with fragrant grapes, which owner Sheila Borges and family harvest to make the jelly for your house-baked, complimentary toast.
25 Bow St., Union Square, Somerville, 617-623-9710, theneighborhoodrestaurant.com.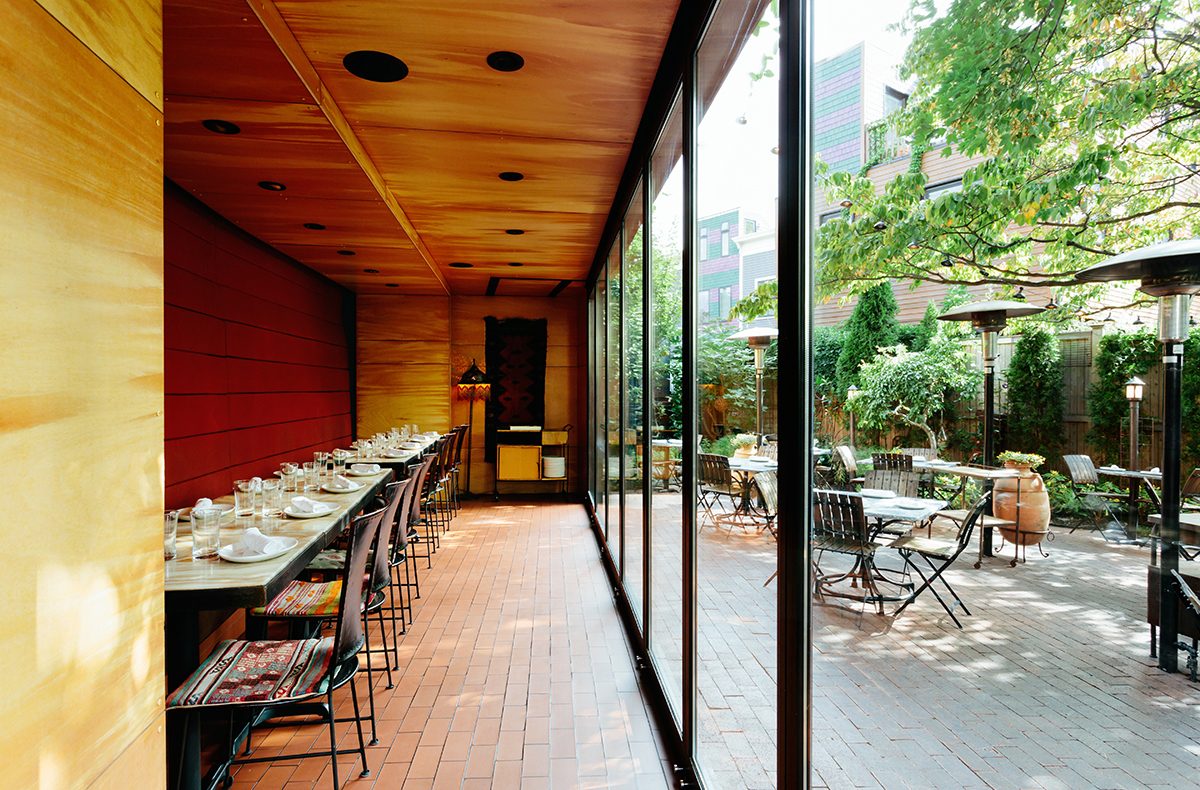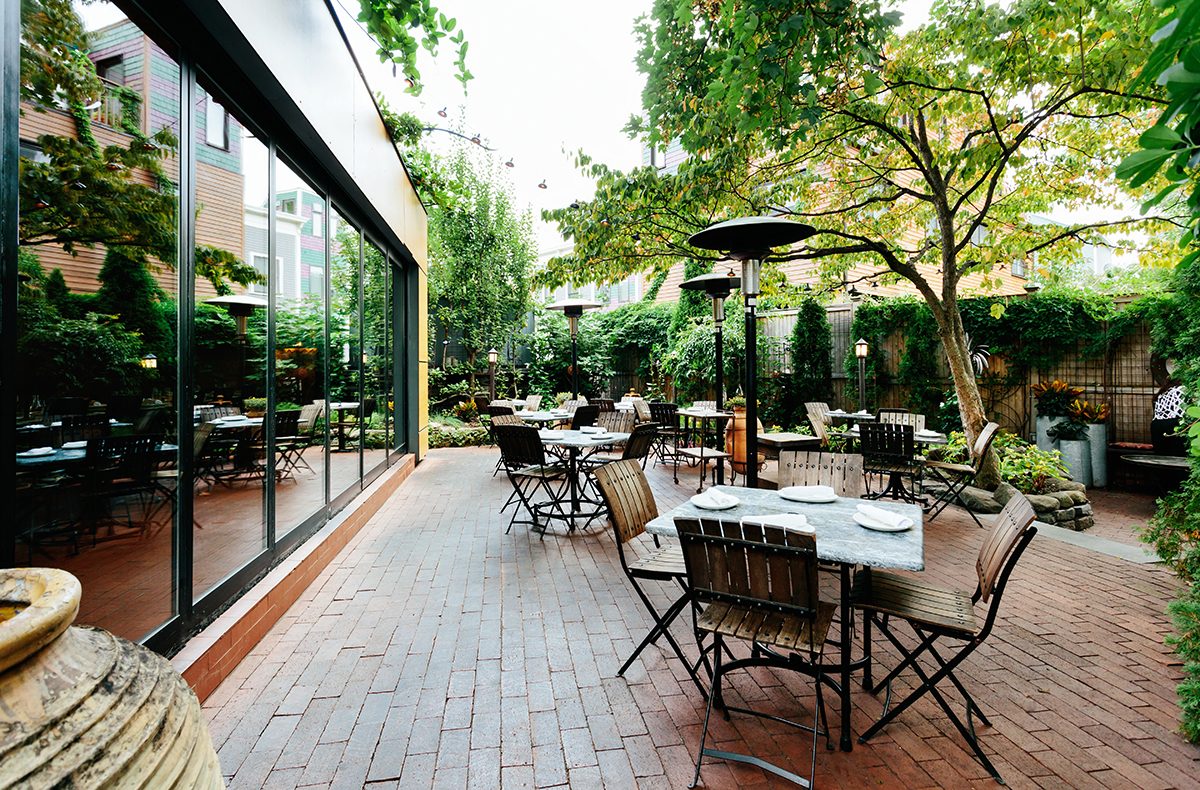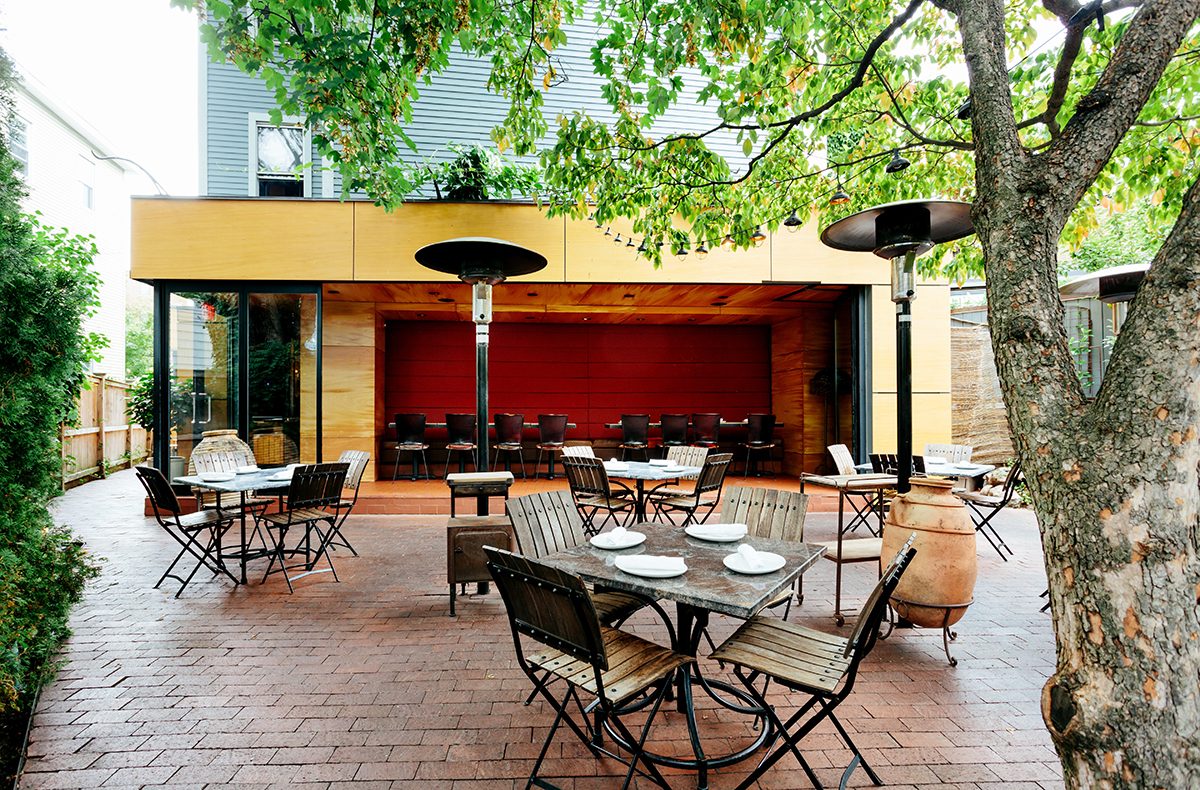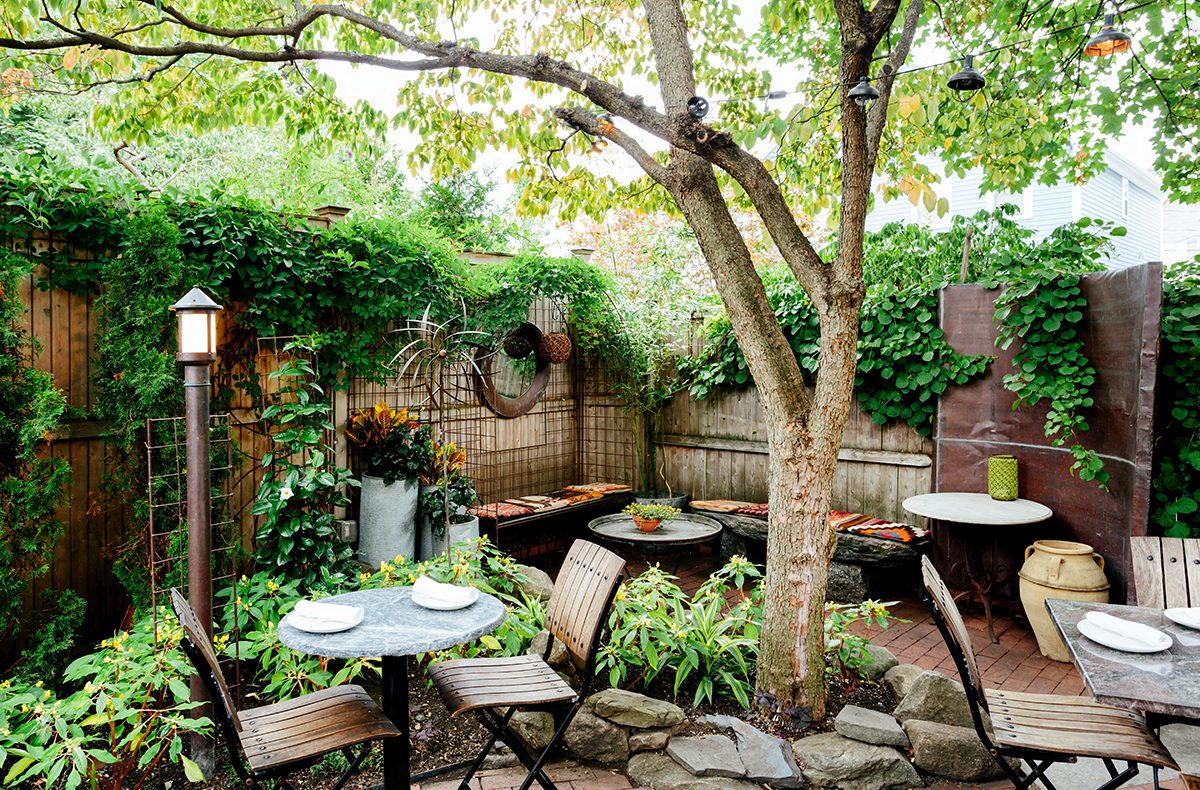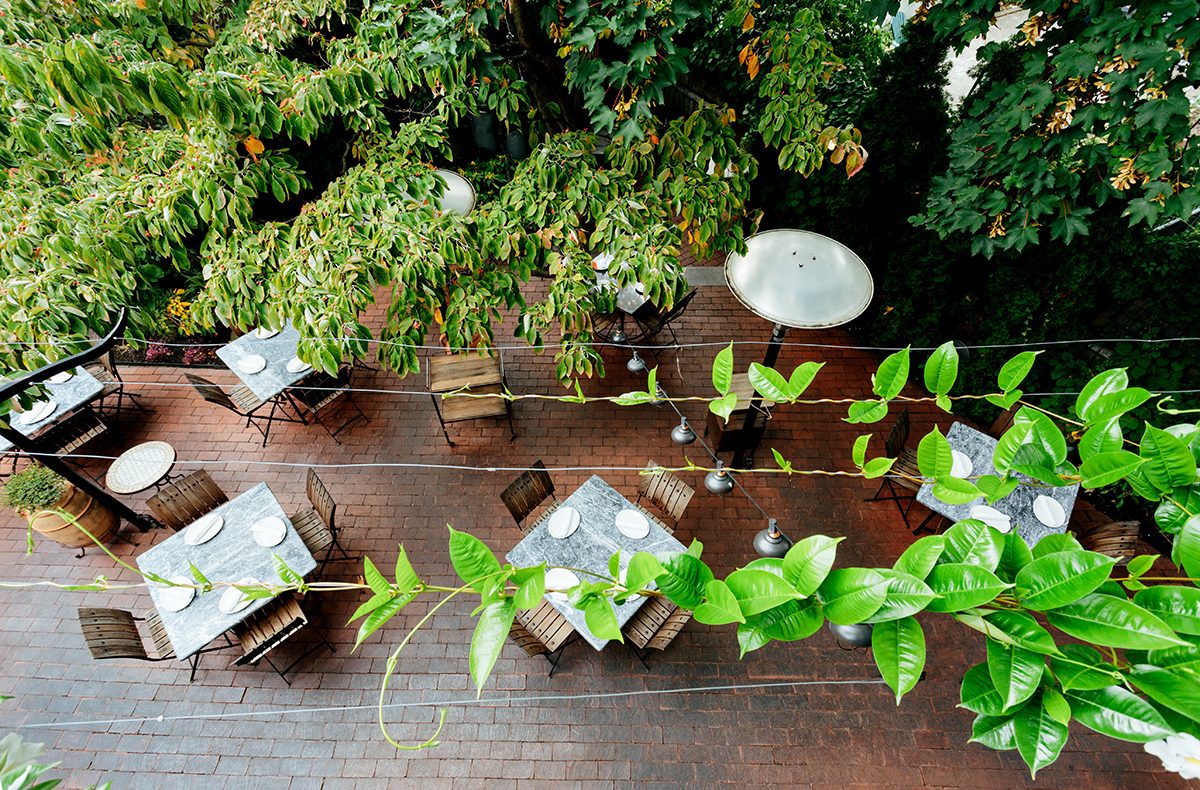 Oleana
One of the most coveted seats in town, Oleana's patio, adorned with a gurgling fountain, is a transportive setting in which to enjoy Ana Sortun's inventive, Eastern Mediterranean fare. The restaurant doesn't take outdoor reservations, but there is an area—under the foliage of a fig tree—where you can wait for a table, ensconced in the perfume of Sortun's nearby herb garden.
134 Hampshire St., Inman Square, Cambridge, 617-661-0505, oleanarestaurant.com.
Our Fathers
With its modern Jewish cuisine, Our Fathers is pioneering in taste—and in setting. Diners can feast on a delicious pastrami sandwich on the patio, or make a beeline to a gin-filled, al fresco happy hour at the indoor/outdoor bar. Bring a friend or your dog—or, if they're both busy, your laptop: There are outdoor outlets for the workaholics.
197 North Harvard St., Lower Allston, 617-303-0101, ourfathersboston.com.
Pier 6
Dine in full view of the historic Charlestown Navy Yard and the USS Constitution on the roof deck, or on the huge, first-floor patio. Downstairs, there's an outdoor bar, with rosé magnums and cocktails like the Captain's Mistress, a refreshing sparkler with tequila, Aperol, grapefruit juice, rhubarb bitters, and cava. Plus: There's a complimentary (weather-dependent) seasonal water taxi directly to the equally scenic East Boston sister spot, ReelHouse.
1 8th St., Charlestown, 617-337-0054, pier6boston.com.
Porto
The patio at Jody Adams' Mediterranean venture offers lounge seating, views of the Copley block, and an outdoor bar to boot. Take in the scenery over plates of raw fluke, squid ink bucatini, and barrel-aged Greek feta and olives.
Ring Rd., Back Bay, 617-536-1234, porto-boston.com.

Publico Street Bistro & Garden
The chic, year-round atrium is one of the reasons this Southie spot is a neighborhood favorite. In the center of the condo building home to the "street bistro," the Garden, as it's called, has a 13-seat bar, and additional tables and lounge seating around fire pits (and there are outdoor TVs, too). In summertime it's lush with greenery, and in winter, it's the cozy après ski-inspired Lodge at Publico.
11 Dorchester St., South Boston, 617-622-5700, publicoboston.com.
ReelHouse
On this sprawling, 130-seat deck, take in panoramic views of the harbor and skyline from the unique vantage point of Eastie. There's a granite-topped outdoor bar, yacht-themed décor, tropical cocktails, and a seafood-focused menu. Plus, it's accessible from Charlestown by public water taxi.
6 New St., East Boston, 617-895-4075, reelhouseboston.com.
River Bar
Comfy orange couches, fire pits, landscaped trees, and an outdoor bar complement views of the Mystic River from the year-round deck. In warmer months, the retractable roof is gone, for ultimate al fresco enjoyment of street food-inspired plates like polenta poutine, short rib empanadas, and vegetarian-friendly grain bowl.
661 Assembly Row, Somerville, 617-616-5561, river-bar.com.
The Salty Pig
Step off the Orange Line at Back Bay station and settle in on this 60-seat patio to create your own charcuterie board with house-cured pig parts, and have few slices of stone-grilled pizza. The fare partners perfectly with the restaurant's wide selection of Old World wines, craft beers, and cocktails.
130 Dartmouth St., South End, Boston, 617-536-6200, thesaltypig.com.
The Sinclair
This 40-seat roof deck, with umbrella-shaded high-top tables and iron patio furniture, is a haven above bustling Harvard Square. Your pre-concert, al fresco feast is complete with snacks like Nashville hot wings, barbecue Brussels sprouts topped with Fritos for crunch, and bacon-habanero deviled eggs.
52 Church St., Harvard Square, Cambridge, 617-547-5200, sinclaircambridge.com.
Sophia's Grotto
This herbaceous patio in Roslindale is one for the books. The rustic outdoor space offers plenty of shade and greenery, perfect for an al fresco meal of spicy mussels and fontina-stuffed veal.
22 Birch St., Roslindale, 617-323-4595, sophiasgrotto.com.
SRV
Grab a spot on the small, front patio along Columbus Avenue to see and be seen, but the 46-seat, hidden deck behind the restaurant is where to have a secluded soiree. The outstanding restaurant's full menu is available on both patios.
569 Columbus Ave., South End, Boston, 617-536-9500, srvboston.com.
Sweet Cheeks
What's better than a heaping tray loaded with brisket burnt ends, fried chicken, and Tiffani Faison's softball-sized biscuits? Devouring said tray at Sweet Cheeks' outside bar with a cold can of Zero Gravity Green State Lager, or a mason jar filled with whiskey-spiked sweet tea.
1381 Boylston St., Fenway, Boston, 617-266-1300, sweetcheeksq.com.
Trade
Located in the heart of the Financial District, this sidewalk seating area overlooks the vibrant Greenway, making for excellent people-watching to go along with chef Jody Adams's lamb dumplings, lasagna bolognese, or Wagyu burger; and the bar's fun cocktails and extensive rosé menu.
540 Atlantic Ave., Financial District, Boston, 617-451-1234, trade-boston.com.
Tres Gatos
Gambas a la brasa (blackened shrimp), warm Medjool dates, lamb bocadillo, and other tapas and pinchos from chef Stephen Marcaurelle are as tempting as the vinyl soundtrack, and the small but verdant patio out front. As is the sherry collection.
470 Centre St., Jamaica Plain, Boston, 617-477-9209, tresgatosjp.com.
---
This list was last updated April 4, 2019.