News
Moon Bar, a Casual Offshoot to Elegant Restaurant Mooncusser, Opens in Back Bay
The high-energy street-level bar features dishes and drinks with lively, globally inspired flavors.
---
Mooncusser, a fine-dining destination in Back Bay, was our 2023 Best of Boston pick for "Best Tasting Menu Worth the Splurge" for a lot of reasons—in particular, Top Chef alum Carl Dooley's stunning use of global flavors to showcase gorgeous seasonal seafood. But there's no a la carte menu at the Stuart Street restaurant; if you go, you're buckling in for the tasting menu. It's wonderful—and Worth the Splurge, in our humble opinion, but not every night is a special occasion. Sometimes you're looking for something a little more low-key.
Enter Moon Bar, debuting on the ground floor of the building that houses Mooncusser on October 17. Dooley, along with chef de cuisine Nelson Whittingham and the Mooncusser team, are offering diners a more casual, affordable spot, something more tailored to everyday dining—but with plenty of vibrant flavors. It's a destination meant to function equally well as a standalone dinner option or a precursor or nightcap to a Mooncusser meal.
"It's a fun, high energy bar where you can dig into some really delicious spicy food layered with flavor," Dooley tells Boston. "Come for drinks and to hang out, and stay for dinner and try some really tasty food and cocktails. It's all upbeat."
Think cold dishes like yellowfin tuna with salsa roja, pineapple, and crispy masa; mahi mahi ceviche with coconut, aji amarillo, and tostadas; and green mango salad with cashews, calamansi, crispy lentils. On the heated side you might find sweet potato samosas with tamarind chutney, or roasted snails with chorizo curry butter. Dooley is particularly excited about one of the larger dishes, a red snapper and crab stew for two with yellow tomato and breadfruit. "At its heart it embodies our approach to spice, acid, flavors, presentation," he says. "It is deeply delicious with bold flavors. Not only is it a beautiful dish, it has super high-impact flavor steeped in tradition and nuance."
It all comes from the team's "shared approach to spice, acid, textures, taste, presentation, and layers of flavors," says Dooley, something the staff has developed together at Mooncusser over the past three years. And Moon Bar gives them—and customers—the chance to revisit beloved dishes and ideas over a longer period of time, whereas the four-to-six-week menu changes upstairs at Mooncusser mean quick goodbyes. "Now at Moon Bar we can dig in with some of our favorite flavors and spices and create dishes we love and want to show off," says Dooley. "You'll want to return for them, and now, you can."
Uni alum Jake Smith is behind the Moon Bar bar. "We are stoked," says Dooley. "I am really impressed with how tasty, beautiful, and energized his cocktails are. There's a real synergy between the kitchen and the bar, and it's exciting to evolve together."
A quick spin through the history of the space: If Moon Bar sounds familiar, that's because an earlier incarnation of the room—before Dooley joined the team in 2021—was also dubbed Moon Bar and also meant to be a somewhat more casual take on Mooncusser. Then, the team added a takeout window to the space, serving lobster rolls, roast beef sandwiches, and the like under the moniker Cusser's. Soon after, Moon Bar got a revamp, adding a bit of Cusser's fun to the dinner menu inside—and a lot more of a seafood focus to match what was being served upstairs. Then, the pandemic hit, and Cusser's fully took over the space, offering takeout and patio service in the early days and eventually reopening inside, complete with a creative cocktail bar residency from local bartending legend Todd Maul. (Cusser's, which has departed the Stuart Street space to make way for the new Moon Bar, continues to operate at food halls Time Out Market Boston in Fenway and Hub Hall in the West End, serving its award-winning lobster rolls, roast beef, and more. There are no current plans to expand it further.)
So, while it feels a bit like coming full circle that Moon Bar is back, this is an entirely new concept—different team, different vibes (a little tropical!), different menu—much like the Mooncusser of 2023 is quite different from the Mooncusser of 2018. "I really think Moon Bar fills a space that the neighborhood needs," says Dooley. "A casual, easy bar with great food, drink, and people."
Opening menu: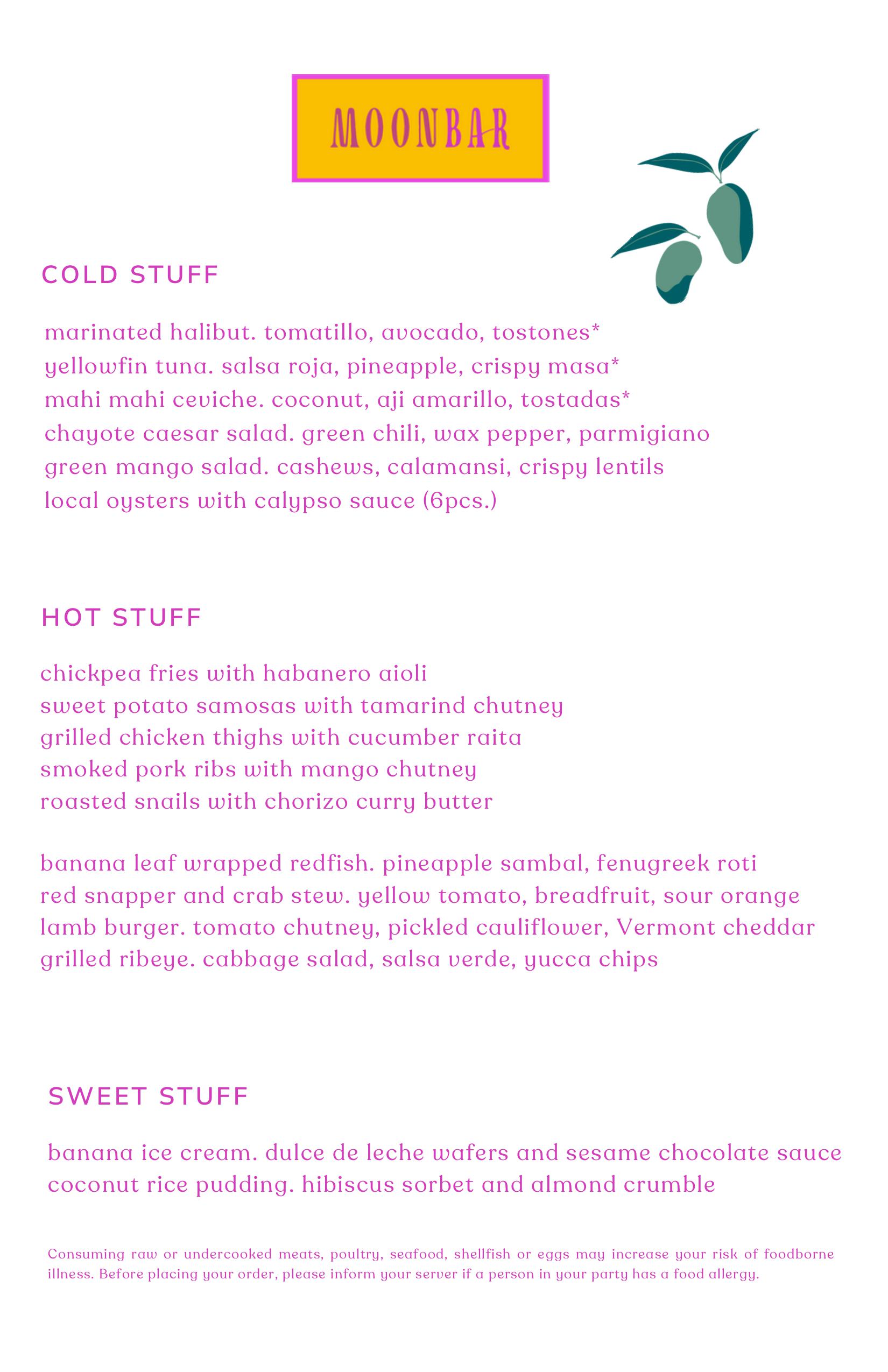 To start, Moon Bar is open from 5 p.m. until 10 p.m. Tuesday through Saturday; reservations are available via OpenTable but not required. 304 Stuart St., Back Bay, Boston, 617-917-5193, mooncusserboston.com/location/moon-bar.
---
---