Charles River Apparel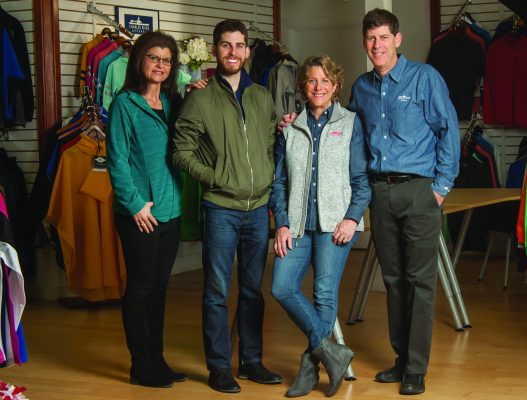 JULIE, JASON, DEB & BARRY LIPSETT
charlesriverapparel.com
Charles River Apparel, a 3rd generation family owned business, has been designing stylish and quality apparel for men, women, and children since 1983. Barry Lipsett is the president and a 2nd generation family member.
Who or what inspired you as a child to start your own business?
My dad created our original family business, Central Steel Supply Company, in 1946 and bought Charles River Apparel as an investment in 1983. Both companies strive to provide excellent customer service.
Why is the location of your business so important to the success of your business?
We wanted to stay true to our local roots and build on the heritage and traditions of New England. Our bestselling raincoat, the New Englander, was inspired by our roots and has become a fan favorite. Our New England inspired Logan Jacket was even featured in O Magazine's The O List.
Have you ever encountered any challenges in your family business?
We initially focused on department stores and retail outlets, but as the market changed we turned more to the college apparel market, corporate, resort, and high school sports teams. Our willingness to adapt and change has been crucial to our success.
Where can you find Charles River Apparel?
On charlesriverapparel.com, major ecommerce sites, distributors, and resort stores nationally.
---