An On-Field Workout at Gillette Stadium Will Support Hurricane Recovery
Join Patriots stars and Bill Belichick at the Fitness for Relief fundraiser.
---
Ever wanted to do yoga on the field at Gillette Stadium? Now is your chance.
On Monday, October 30, the Patriots are opening their doors for a "one of a kind" workout under the lights in Foxborough. The event, called "Fitness for Relief," is hosted by the Patriots Women's Association and the Bill Belichick Foundation, and is a fundraiser for ongoing hurricane recovery efforts.
A $150 ticket gets you a yoga session with Sid Yoga (who specializes in routines for athletes) and either a spin class with Rev'd Indoor Cycling or a barre session with Pure Barre. Or, it's $100 just for yoga. Both prices come with access to a meet-and-greet with Belichick, a few Patriots players, and some other Pats coaches.
Kelley Doyle, a spokeswoman for the fundraiser, described it as the biggest of its kind in the Women's Association's two-decade history, and says she's expecting a huge crowd. "Hopefully, we'll have a thousand people doing downward dog" on the turf, she says.
For Linda Holliday, who is Belichick's longtime girlfriend and the executive director of the Bill Belichick Foundation, the effort is personal. "On a personal level, my daughters Kat and Ashley Hess and I remember well the Category 5 Hurricane Wilma that slammed Jupiter, Florida in 2005," she says. "We were terrified during the storm as I was a single mother trying to protect my two girls. It only takes a few hours of howling winds, rain and pressure to turn your everyday world upside down. And the worst part is how quickly everyone forgets. Water and generators become precious commodities. We will come together next Monday to help many."
You can join them Monday, October 30, from 6-9 p.m.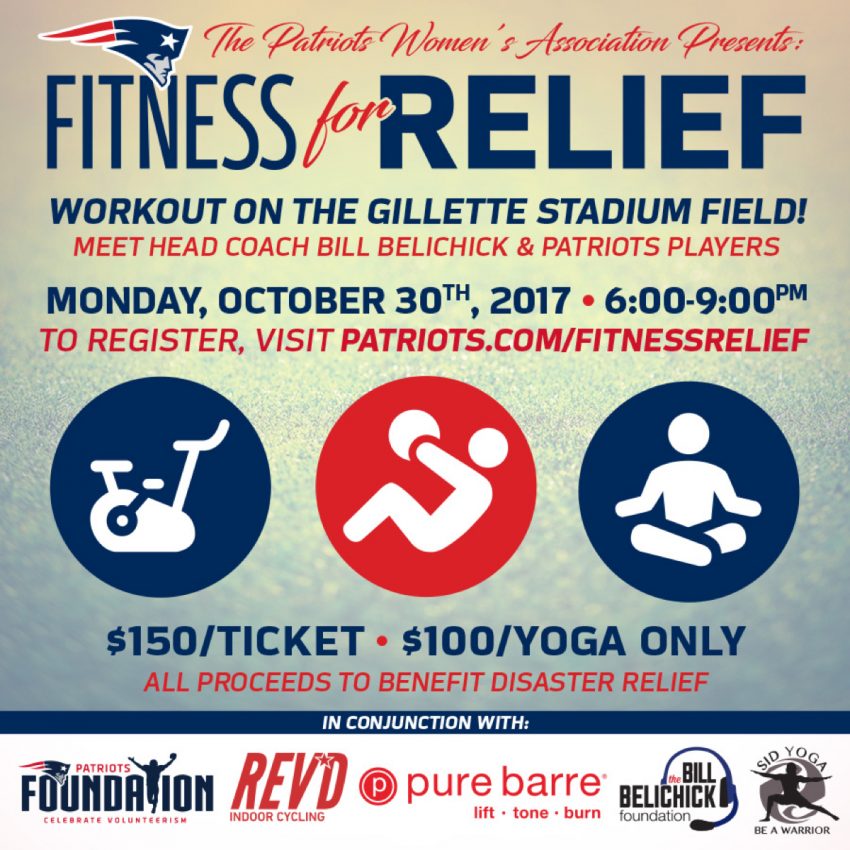 ---
---