Top Places to Live 2018: South of Boston
From Quincy to Hull, here's where to find the last great deals south of the city.
---
THE DEAL
3 Brinsley St., Quincy
Asking price: $679,000
Sale price: $645,000
Days on market: 69
Size: 1,693 square feet
Bedrooms: 2
Bathrooms: 2
---
Quincy
It's a great time to be an owner in Quincy, says Amanda Dumont, vice president of marketing and sales at Brooks Brokerage. Easy access to Boston via the Red Line has always been a big perk for Quincy dwellers, but the state's eighth-largest city is becoming a destination in its own right. Meriel Marina Bay, a 352-unit apartment building, will soon bring 20,000 square feet of retail, and Quincy Center is poised to receive more housing, retail, and offices in the next few years. For buyers who'd prefer to have a home away from the hustle and bustle, Squantum still has plenty of single-family houses to choose from—and waterfront views to be enjoyed. "If you're not living on the waterfront, you're walking to it," Dumont says.
Dedham
"I think Dedham for a long time was overlooked," says Jay Donahue, president of Donahue Real Estate Company. "It's definitely had a little renaissance." It started nearly a decade ago with the opening of the massive outdoor shopping destination Legacy Place, but these days the town has much more to offer than a mall. Dedham upped its cultural cred in 2013 with the launch of the Mother Brook Arts and Community Center, which hosts classes, exhibits, and studios for some two dozen artists on the former site of the Avery Elementary School. Meanwhile, Dedham Square has evolved into an appealing downtown where locals convene in cute coffee shops and will soon follow their noses to the pit-smoked delicacies of Blue Ribbon BBQ. "With Dedham Square," Donahue says, "I don't want to say, 'It's happening,' but it's happening."
Scituate
Two commuter rail stops that debuted just over a decade ago allow for a reasonable train ride into the city, but Scituate still feels a world away. "It's definitely one of the prettiest towns on the South Shore, and all the way down to the Cape, in my opinion," says Kathleen Duffy, an agent with William Raveis Real Estate. "It's sort of a secret." The community's five beautiful beaches fly under the radar because they mostly cater to residents, she explains. Non-resident beach stickers are limited, so locals get stretches of sand all to themselves. And away from the shoreline, there's still plenty to do. "On Front Street you have a bowling alley and a movie theater and many restaurants," Duffy says. "There's a lot going on for such a small town."
Hull
Starting in the early 19th century, Hull provided a summer playground for Greater Boston, luring everyone from Ralph Waldo Emerson to Calvin Coolidge to the shores of Nantasket Beach. The town has since blossomed into a thriving community that keeps some of that vacation-mode mindset all year long. "You see a lot of people buying what used to be cottages and doing them over and making them year-round single-family homes," says Brian Molisse, owner of the South Shore's Molisse Realty Group. Those homes make Hull the rare place where you can enjoy both sea air and skyline views at a relatively affordable price. Especially scenic vistas wait at Windmill Point, which also happens to be the site of both Hull's high school and the terminal where commuters board the ferry for a quick ride to Boston.
---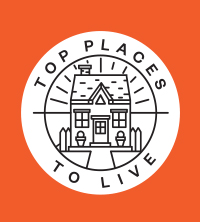 See more from Top Places to Live 2018.
The Boston Home team has curated a list of the best home design and home remodeling professionals in Boston, including architects, builders, kitchen and bath experts, lighting designers, and more. Get the help you need with FindIt/Boston's guide to home renovation pros.
---