So You Want to Live in Chinatown
---
Sign up for our weekly home and property newsletter, featuring homes for sale, neighborhood happenings, and more.
At the entrance to Boston's Chinatown, you'll find the Chinatown Gate framing a view of its colorful streets. The landmark, which is situated at the intersection of Beach Street and Surface Road, is engraved with the phrase, "All under heaven for the common good of the people," in Chinese characters. Raised in 1982, the gate serves as the physical entry to the neighborhood, which was originally formed in the late 19th century by Chinese immigrants who were pushed out of the American West. While its population boomed in the 1950s and '60s, the area saw many significant changes throughout the 20th century, including a loss of turf during the construction of the Central Artery and the expansion of New England Medical Center, which went on to become Tufts.
Today, the close-knit community is doing everything it can to survive, despite rapid conversion to new high-end developments and Airbnbs. While the majority of Chinatown residents are renters, higher-end real estate agents are sometimes hesitant to label their properties as part of Chinatown, with many apartments advertised as "steps from Tufts" to appeal to medical and dental students. Despite their hesitation, the neighborhood continues to be beloved by residents who praise its amazing culinary scene and rich cultural history. Just a few streets over, the Leather District has risen as a hot spot where former factory buildings are now stylish lofts with hefty price tags.
---
Prices at a Glance
Median condo price: $1.35 million
Average rent price: $3,815 per month
---
What You Can Buy
A Leather District Loft with Rolled Ceilings
121 Beach St. #603, Boston
Price: $1,295,000
Size: 1,687 square feet
Bedrooms: 2
Baths: 2
---
Public Transit Options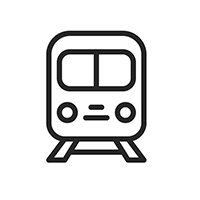 The Tufts Medical Center and Chinatown stops on the Orange Line
Just a few streets over is South Station, which is served by the Red Line, Silver Line and Commuter Rail
---
What a Real Estate Agent Says
The Chinatown market is very confined. There's not much inventory in there. We can't really expect to see that many listings everyday unless there's a new development that becomes available. Generally speaking, we see no more than 10 resales a year. There are a lot of rentals, and there's not enough inventory period in Chinatown.

A big driver to this area is the proximity to Tufts and Downtown Boston. A lot of people don't necessarily need parking, and for most people, renting it is just fine. If you look at what your monthly affordability is, you just compute [parking rental fees] into the equation. The prices are slightly lower per square foot than "Midtown," or the area around Tremont and Washington Streets, so it is pretty reasonable. And there's no different between Chinatown or the Leather District or the Financial District, for that matter. There are just not a lot of residential buildings there. I would say for anyone who's looking in Chinatown, they're probably also looking in the other districts, and it's going to end up being property-specific requirements and not neighborhood-specific ones.

So, people looking in Chinatown are looking everywhere. The bottom line is, people are just looking and choosing based on specific units—especially in today's market when inventory is as scarce as it is.
—Elad Bushari, Compass Real Estate
---
Grocery Stores

C-Mart
50 Herald St., Boston
109 Lincoln St., Boston
Whole Foods Market Ink Block
348 Harrison Ave., Boston
---
Perks
It's all about location in Chinatown, where you can hoof it everywhere from the South End to Downtown Crossing in just a few minutes. The neighborhood is filled with delicious restaurants (scallion pancakes at Tawain Café, anyone?) that continue to draw folks from all over the city. You'll also find plenty of unique little shops, ranging from herb stores like Nam Bac Hong to Korean beauty shop Rhyme of Korea.
---
Did You Know?
Chinatown was mostly filled with men until the early 20th century due to the Chinese Exclusion Act, which stated that only merchants were allowed to bring their families over from China. This resulted in most laborers emigrating without their families.
On October 11, 1903, Boston police raided a funeral of a murder victim in Chinatown and arrested over 300 men for not carrying proper immigration documents. Over 50 were deported, and more than 100 fled the area. The Boston Herald headline the next day read "Over 300 Chinamen Arrested in Big Round-Up By Police." After 1965, people flocked to the neighborhood following changes in immigration laws, allowing many families to reunite.
For years, one of the most recognizable pieces of public art in the city of Boston was the Chinatown community mural, originally located at 36 Oak Street. Co-designed by Wen-Ti Tsen and David Fichter in 1986, the mural depicted Chinese history in the city, from their work in laundries, restaurants, and factories, to their struggle to maintain housing. In 2002, the mural was torn down due to development of the area. In 2005, a photographic replica was installed in the lobby of the Boston Chinatown Neighborhood Center.
HOME PRICES BY ZILLOW AND RENT PRICES BY RENTCAFE. ICONS VIA GETTY IMAGES.
---