Here's How Boston Homeowners Can Transform their Kitchens Without Breaking the Bank
From cooking, eating, chatting, and remote learning, to making viral, experimental recipes, the kitchen has never seen so much action than it has in the past two years. After spending so much time in the kitchen, many families realize it's time to make better use of their space. New layout, new storage possibilities, new custom cabinets.
The realization that it may be time for a kitchen cabinet update comes at a difficult economic moment. We want to invest in top-notch, timeless custom cabinets that will last years. But with the word 'recession' popping up in recent headlines and an inflation rate we'll tell our grandchildren about, Boston homeowners might have to get creative.
There's a custom cabinet maker in New Hampshire filling that need across New England. Crown Point Cabinetry's Crown Select line of custom cabinets is the ultimate kitchen solution for the current moment. With the same exceptional caliber as Crown Point cabinets at a lower price point, Crown Select will save you as much as 30 percent on your new cabinets—with the same incredible results. To help you get the most out of your new cabinets, here's a simple guide to mastering your kitchen project, from start to polished finish.
Know Your Budget
Figuring out how much you can spend on your cabinets and where to allocate your funds is a crucial part of your kitchen update process. But it's not as easy as it sounds—how do you know you're investing your money in the right cabinet company, and on the right features?
This common dilemma is why Crown Select value-engineers their cabinetry, meaning the cabinetry is well-designed, rugged, beautiful and cost-efficient. "The kitchen will be designed for your needs, your lifestyle, and your budget," says the Crown Select team.
Define Your Vision
When choosing custom cabinets, it's best to have a goal in mind. For a kitchen investment, it's best to aim for timelessness–Crown Select's most popular styles prove it. "We are seeing classically designed, traditional kitchens being the most popular," says the Crown Select team.
If you're not sure of what you want, Crown Select offers guidance to all their clients to be sure they're making a choice that will work for them for years. "We work directly with clients on a one-on-one basis," they say. "Many take advantage of touring our gorgeous showroom and our cabinetmaking facility."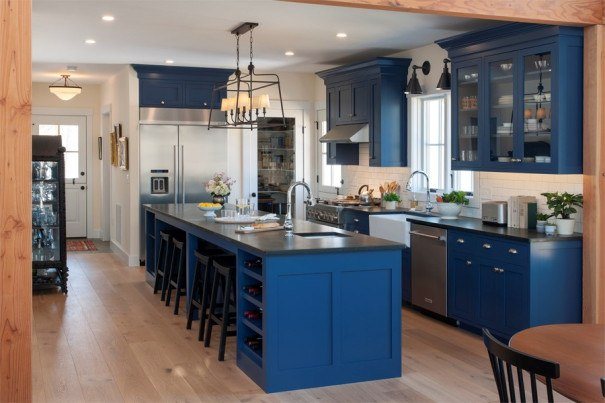 See Your Vision Come to Life
Now for the fun part: You get to choose your new custom cabinet products, designs, and finishes. You'll choose door styles and drawer configuration options, finishes, wood species, a finish like paint or stain, and various moulding and toekick choices.
If you're going for a modern aesthetic in your kitchen, Crown Select recommends a frameless, full-overlay construction for seamlessness. Check out Crown Select's Enfield door style for an especially sleek look. The Soho drawer front will give you the clean lines you're looking for, as will the Riviera–especially if you're still looking to keep natural tones in your modern kitchen.
If you're looking to incorporate some vintage inspiration into your new kitchen, you're not alone–Crown Select says many clients choose the Beaded Inset face frame construction with Cornish door style and Slimline drawer fronts if they're going for the vintage look. For a paint color, try Privilege Green, and for a stain, opt for the Nutmeg or Honey Brown tone.
If you want a pop of color in your kitchen but don't know where to put it, here's a tried-and-true tip from Crown Select. "An island is an excellent area to add in a color accent," they say. "The island can complement or contrast, in paint or stain, to create just the right emphasis." If you choose white paint for your cabinets, try for a Dockside Blue or Rosemary island. If your cabinets are Mission Brown over cherry wood, try Indigo Batik or Antique Red for a moody maximalist feel.
Crown Select will create a layout for your kitchen with floor plans and elevation drawings. You'll choose your own installer, and when the day comes, Crown Select designers work closely with the installers in case any questions arise. The best part? You can rest easy knowing their warranty is one of the best in the business.
To get your dream kitchen underway, visit www.crownselect.com
This is a paid partnership between Crown Point Cabinetry and Boston Magazine's City/Studio
---