Reasons to Visit a Neurosurgeon, and What You Can Expect When You Do
When you twist your ankle one too many times, you know it's time to see an orthopedist. With every new ear infection or strep throat diagnosis, it becomes clearer that you might need to see your ENT. But not all injuries, symptoms or abnormalities will pave you a clear path toward the moment when it is time to see a designated neurosurgery specialist.
Brain surgery is an intimidating concept that feels high stakes. After all, the brain is the command center for your entire body. But that's even more reason to know what the warning signs are that may warrant a visit to the neurosurgeon. Dr. Ekkehard Kasper, a neurosurgeon from St. Elizabeth's Medical Center, weighs in on what may warrant a consultation with a neurosurgeon and what to expect.
Some examples of signs and symptoms that you should be familiar with
Headaches and seizures
Unusual headaches, which can be positional and start when standing or sitting and go away shortly after you lie down, or new headaches that suddenly come with nausea and vomiting, are reasons you might look to a neurosurgeon for diagnosis and treatment. Sudden, shooting facial pain is also something you need to address. Other warning signs of a neurological issue are if you start to experience sudden seizures, or if you wake up with unexplained incontinence and/or a tongue bite (a sign of a seizure that may have occurred in your sleep).
Injury and discomfort
Previous head injury or stroke and persistent symptoms from past head or spine surgery can also be issues that a neurosurgeon like Dr. Kasper can help you troubleshoot and fix. So take note if you have persistent neck or back pain that can't be relieved with over-the-counter-medications like typical pain can. Another warning sign is shooting pain that radiates down one of your extremities or numbness and tingling that constantly occurs in a limb.
Neurological deficit of the body
This section refers to manifestations of neurological issues in other areas of the body. It can be obvious, according to Dr. Kasper, that you have a problem like sudden cross eyedness, double vision, focal weakness such as a foot drop (difficulty lifting the front part of the foot), or loss of strength in one arm. But he warns that the deficit can be more subtle, like the limb numbness, tingling, new dizziness with nausea, or progressive gait and balance problems. So do not shy away from mentioning these symptoms to your family doctor and ask for a referral.
"If any of these symptoms sound applicable to what you have been experiencing, we advise that you make an urgent appointment with your family doctor or primary care provider to undergo a first examination or to obtain a set of images that will help to understand the situation," says Dr. Kasper. "Your primary care provider will then refer you to a neurosurgeon if they see it as a necessary step towards your treatment."
What to expect on your visit
"When you arrive at our Neurosurgery Clinic at St. Elizabeth's Medical Center, we shall take the time to find out whether anything has progressed or changed since your initial primary care visit. We know already that your primary care provider has recently seen you for a particular problem and he/she will send a brief letter our neurosurgeons, outlining the history of the present illness, your complaints, and the biggest points of concern for him or her," says Dr. Kasper. The referral describes why a neurosurgeon is needed for assessing the situation.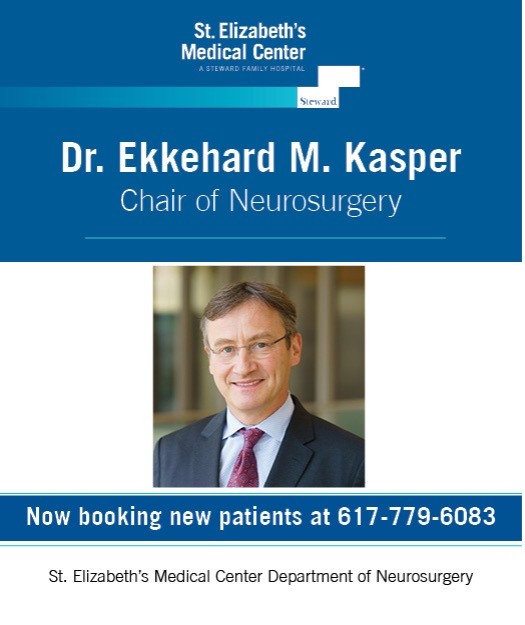 The SEMC neurosurgery team of medical assistants, nurses, advance practice providers, fellows, and doctors will hear any ongoing concerns you have and go over your medical history before you undergo an in-depth examination at the visit.
As your neurosurgeon, Dr. Kasper is committed to both your health and healing and your understanding of the problem and proposed solution. Dr. Kasper is also fully integrated into both the teams of the Dana Farber Cancer Institute and Brigham and Women's Hospital to provide optimal multidisciplinary care to you.
"We always go over the history and films with the patient and share the thought process and findings. Often, we also provide conceptual drawings to explain the situation and we illustrate each surgical step needed to address the problem," says Dr. Kasper. "We shall discuss your specific situation and explain the available treatment options for this condition with you in detail so you will be able to jointly make the best decision about the next steps for you."
At the end of your appointment, you will be given a note and the pictures together with the summary of your visit and your primary care provider will receive a more comprehensive note so he or she can stay informed about plans for your treatment.
For more information about the Neurosurgery team and services provided, visit semc.org/services-directory/neurosurgery.
This is a paid partnership between St. Elizabeth's Medical Center and Boston Magazine's City/Studio
---