Living Modern: A House on Stilts in Harvard
A new home rests lightly on the land, thanks to its cleverly designed structure.
---
To build their dream house, Rich and Maribeth Marcello bought a 1.8-acre wooded property in Harvard. Unfortunately, the steeply sloped site was better suited for a tent than a three-bedroom home and artist's studio. Through their son's classmate, they found Boston architect Peter Rose, principal of Peter Rose + Partners, who figured out a way to make minimal contact with the land while maximizing privacy and views of Bear Hill Pond. The design team, managed by Stani Iordanova, proposed separating the 3,300-square-foot home into a series of treehouse-like volumes on stilts and connecting them with a single, snaking hallway. The result is a peaceful refuge with plenty of opportunity to engage with the natural landscape. Here's how they did it.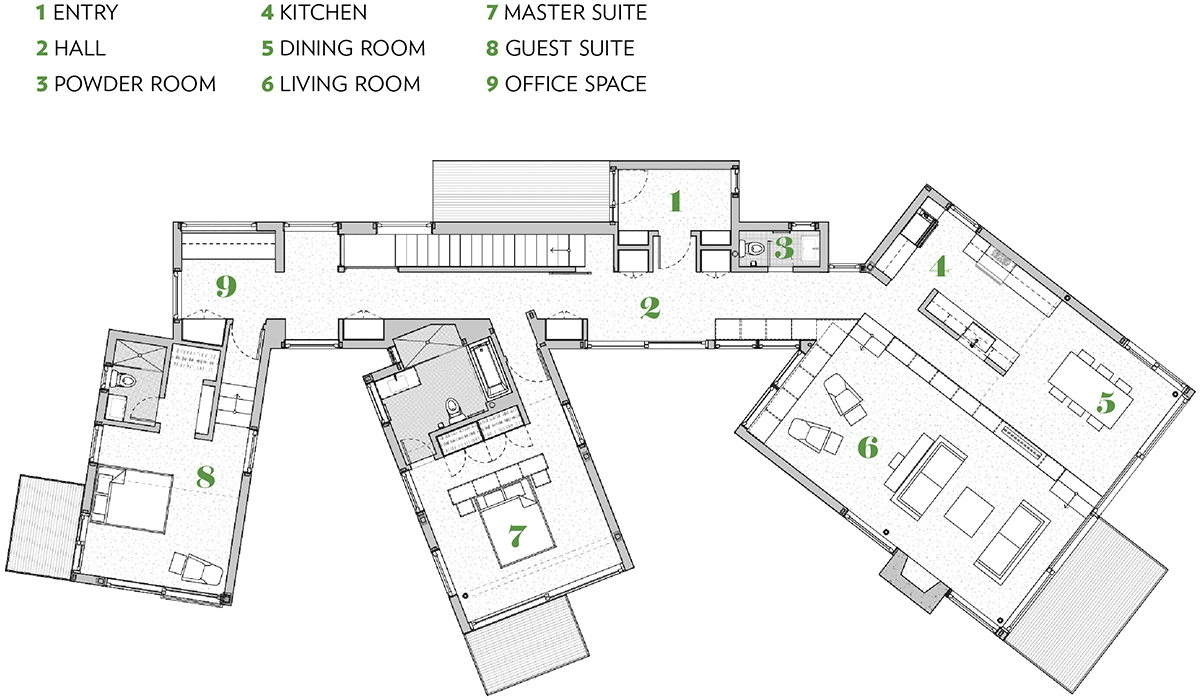 Open Wide
The cedar-shingle-clad home offers few shared spaces, so the open kitchen and living room need to play well together. A slight level change, mediated by built-in beech-veneered cabinetry, visually separates the room's two functions, while a vibrant fir-lined ceiling ties them together into a single, woodsy space, says Iordanova.
Invite Movement
More than just a corridor, the wide central hallway—which Iordanova calls a "spine"—contains space for an office nook and serves as a contemplative walkway where the homeowners can pause occasionally to gaze out into the landscape.
Lighten Up
Nestled into the woods, two bedrooms are constructed like individual treehouses: Each has windows on three sides, plus a clerestory on the fourth, and also features a private cantilevered balcony accessible by an enormous "Lift & Slide" door by Zola European Windows. "By fracturing the home's footprint, we reduced its apparent mass," Iordanova says.
Respect the Site
Iordanova organized the three "boxes" in slightly different directions to take advantage of varying light conditions while maximizing privacy. Just one-quarter of the building area sits on a solid foundation; the rest is supported by columns pulled back from the slab edges to avoid disturbing the roots of the trees closest to the house.
Build to Last
Polished concrete flooring offers a resilient surface for the owners' two Newfoundlands. It sits atop an 8-inch-thick structural slab packed with steel so that it can be supported below by just a few columns. "We found solid granite on the site, which otherwise would have required more blasting," Iordanova explains.
Save Energy
The entire house is heated and cooled geothermally through coils embedded in the floors. On temperate days, opening the many large sliding windows encourages natural ventilation, which keeps the home comfortable.
---
Architect Peter Rose + Partners
Contractor Skinner & Watkins
Millwork Nine Points Woodworking
Windows Zola European Windows
Porch Furniture Provided By Casa Outdoor
---