Boston Business Owners Are Picking Up the Pieces after Overnight Damage
Independent shop and restaurant owners say property destruction and theft are added hardships for them during the pandemic—and distractions from the protest centered on justice for George Floyd.
---
Store owners and restaurateurs in downtown Boston, the Back Bay, and the South End were sweeping up shards of glass and evaluating their inventories on Monday morning, after a peaceful protest for racial justice devolved into looting and chaos overnight. Business owners say the property destruction was insult to injury for them when they've been struggling to stay afloat throughout the coronavirus pandemic.
Around 2:30 a.m. on Monday morning, a group of people, including someone wielding a sledgehammer, broke into South End wine shop the Urban Grape, security footage shows. For nearly three months, the store has focused entirely on online sales, so the registers the sledgehammer destroyed didn't give the looters much cash, at least, says owner TJ Douglas.
"As an entrepreneur of color, it was hard to start my business. It's been hard to keep business up, and something like this just adds to our hardship," he says.
His wife and business partner Hadley Douglas adds, "It's upsetting on a lot of levels, but mostly because it shifts the focus from what it should be on."
It's not about broken windows, she says. "We aren't the victims here. All these businesses are not the victims in this situation. There's no insurance to bring a dead, strangled man back. We really have to think about that as business owners and we have to understand while this might hurt, frustrate, and sting. At the end of the day, people can't be replaced, and this rage that is burning through our country right now needs to be heard," she says. "If it needed to be heard through our window, we are OK with that."
During a Monday afternoon press conference, Boston Police Commissioner William Gross said that half of the 53 civilians arrested on Sunday night were from outside the city of Boston. "I want to break a negative, stereotypical view… that those hellbent on destruction just came from the inner city of Boston. That is not the case," he said.
Mayor Marty Walsh said that destruction to businesses "hurt a community that is already hurting."
Anna Barounis, owner of Giorgiana's in the South End, calls it "total devastation after what we're going through with the pandemic." Videos her neighbors filmed show dozens of people descending on her South End deli and liquor store around 2:30 a.m., taking a sledgehammer to her windows. Inside, they destroyed all of her point-of-sale screens, tipped over her ATM, and stole cash registers. They took candy, cigarettes, lottery tickets, and countless bottles of wine and liquor. Many were broken and spilled throughout the store and its basement wine cellar.
"I feel very violated right now," she says, her voice breaking slightly. Barounis watched the protest on TV at home, and at 9 p.m. she talked with her employee who was closing the store for the night, she says. "Everything seemed fine," she says, but adds that the destruction that happened later threatens to undermine the effectiveness of the protest.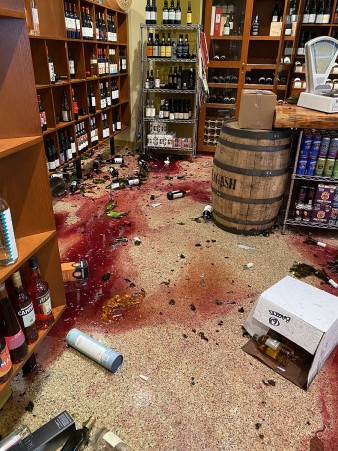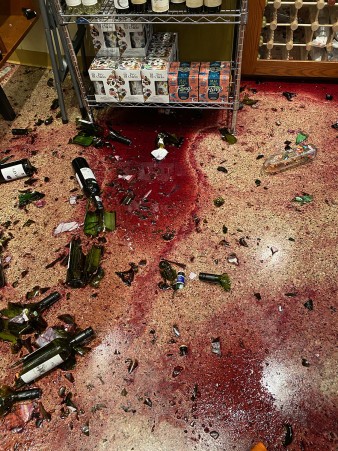 Bob Bacco agrees. His Park Plaza-area shops, Bacco's Wine and Cheese and neighboring Bacco's Fine Foods, were ravaged for several hours overnight, according to a report he received from the building manager. Bacco supports the message the protestors brought to downtown Boston on Sunday evening, but from midnight to 3 a.m., "nobody was exercising their freedom or their rights there. They were just being buttheads."
Chef Jason Santos wasn't at his downtown restaurant, Abby Lane, on Sunday night, but around 10:30 p.m., he saw it on Twitter. A bystander shared a video of a white man, wearing a white face covering, chucking a brick through Abby Lane's window.
Santos called the police right away, but they told him to stay away from downtown Boston for the night, he says. Cops met him at the restaurant Monday morning and he's filing a full report, but Santos acknowledges, "the damage is done."
Abby Lane suffered two broken windows, and several smashed point-of-sale computer screens. "They stole basically all the booze," Santos says, adding that a shot on the restaurant's security camera shows "about 20 people" behind the bar at one point. Several copies of the chef's cookbook Buttermilk & Bourbon, named for his Back Bay restaurant, were also stolen from behind Abby Lane's bar. While he was assessing the damage, he got a call that Buttermilk & Bourbon's exterior on Commonwealth Avenue suffered a few broken windows, as well.
It could have been worse, but it still hurts, Santos says. "When people protest, it comes from the heart. They're doing something they believe in. If everyone just went home last night, that was powerful stuff," Santos says. "Unfortunately, the first thing I thought about when I woke up was my restaurants, which is crappy."
His insurance company hadn't yet fully assessed the damage at either establishment when he spoke to Boston, but Santos says, "we'll rebuild." He has just applied with the City of Boston for temporary outdoor seating along Tremont Street, and hopes to open Abby Lane for on-site dining as soon as possible. The Theater District restaurant has been getting by on takeout for the past couple months.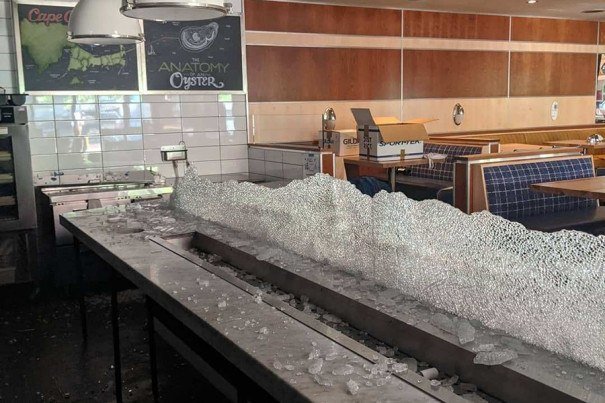 The bar at the Oyster Club, a Park Square seafood restaurant, was also targeted by looters. "I think they drank half the wine bottles, then threw the rest into my [decorative] mirrors," reports chef Chris Parsons. The Oyster Club opened at the tail-end of summer 2019, and Parsons had been getting ready to reopen its large, lovely patio for this season.
"It's a mess. There's no way we'd open next week," he says, even if Phase Two begins on June 8 and patio dining is allowable. "I don't know what this is going to do to our opening process. We have a whole new set of issues to deal with before we can open the restaurant."
Barounis, meanwhile, had just hired back some Giorgiana's employees who she had to lay off during the pandemic. In anticipation of Phase Two of the Bay State's economic reopening plan, she was planning to extend her hours of operation next week.
"That's not going to be happening. I'm going to be down and out for at least a week, if not longer," she says. That said, Barounis is grateful the destruction happened after hours. "Thank God my employees are safe," she says. "This will all be fixed. Money will come back. Life can't repair itself."
Back at his markets, Bob Bacco is facing similar destruction: Cash registers destroyed, shelves upon shelves of bottles smashed, shards of glass blanketing $30,000 worth of cheese in one refrigerator. "Nobody's hurt. It's just stuff. It's just damage," he says, "but I take it personally. I've worked 25 years to get where I am, and I've been open for 10 years now. It's tough. I don't need this."
The people honoring the legacy of George Floyd and other victims of America's flawed justice system also don't need it, says TJ Douglas.
"Breaking a window and stealing a sneaker or jewelry isn't going to make pain, racism, and hatred go away in our country," the Urban Grape owner says. "If anything, it's going to fuel it."
---
This story has been updated.
---
---