Regal and Romantic Don't Even Begin to Cover This Rosecliff Wedding
We're talking a 12-foot train, a five-tier cake, and a champagne saber.
---
June 30, 2019
Rosecliff
Newport, Rhode Island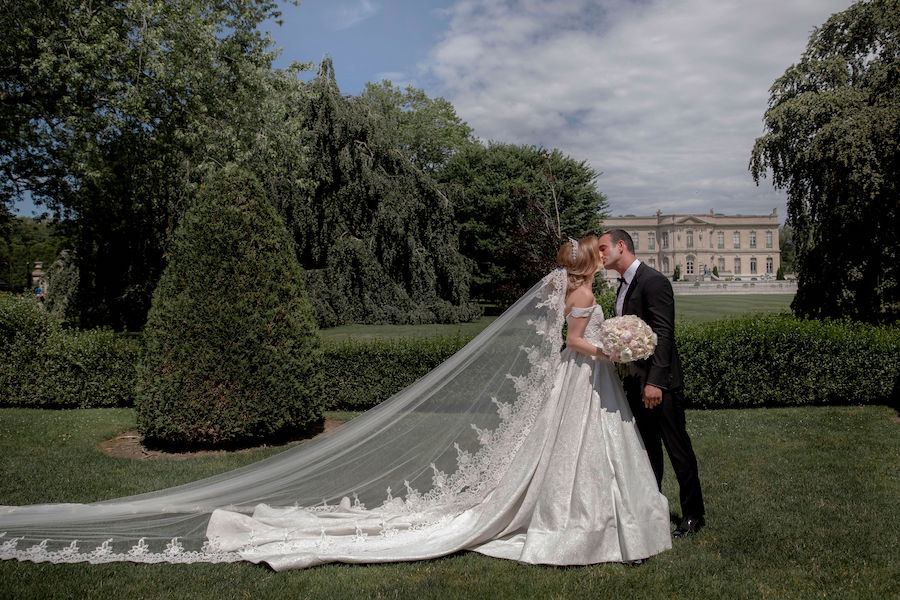 THE STORY
When Victor Dumé first spotted Ardita Ljulja inside a New York City nightclub in January 2011, you could say it was love at first sight. "As soon as I walked in I saw her at a table, and it was like there was a spotlight on her," Victor recalls. "I was just stunned by her. Time literally stood still." For Ardita, meanwhile, that wasn't exactly the case. "I was out trying to have a girls' night and he kept coming over to hang out with us, so I was like, 'Oh my god, leave us alone,'" Ardita says with a laugh. Weeks later, the two ran into each other again at another club, and then once more during another night out not long after that. "After a few times running into each other it became a funny thing, so then at that point I worked up the courage to ask for her number," Victor says. Ardita was a college student taking summer courses in the city at the time, so Victor suggested they meet between classes for lunch. "I thought to myself, 'That's harmless and he's really cute, I might as well give him a shot,'" Ardita says. So they met for a bite to eat one afternoon, and then again the next day, plus every day that she had class for the next five weeks. After those weeks passed, they decided to go on an official first date—dinner and a movie—and the rest is history.
About five years later, the couple was living together on Staten Island, and Victor, who decided to go back to school shortly after meeting Ardita, was graduating from college. Throughout the prior years, Victor had occasionally asked Ardita questions about her taste in jewelry and taken note of her responses. "She kind of made her custom ring throughout the years without realizing it," he says. Victor also knew that Ardita wanted to have a private, intimate engagement, so he rented out the rooftop of a hotel near the Freedom Tower for one night during the weekend of his graduation under the guise of celebrating his new diploma. When they arrived on the hotel's roof that night though, it was covered in rose petals and votives, and the only other people present were a violinist playing "Can't Help Falling in Love," a photographer, and a videographer. "I was in shock and had no idea what was going on. They were snapping all these photos and I was like, 'Victor, who do they think we are? What's happening?'" Ardita says. "He looked at me and said, 'It's happening.'"
When Ardita and Victor first visited Newport's Rosecliff mansion in search of a stately venue with a French chateau vibe, they fell for it immediately. It was the first venue they'd visited, though, and they felt they "needed to do our due diligence," Ardita explains. So, they jetted off to Europe to tour similar venues in Paris and Venice. "Everything we saw we'd [compare] to Rosecliff and we just kept going back to [it]. We basically flew across the world to confirm it," the bride says with a laugh. On the day of their wedding, the couple said "I do" overlooking the ocean in front of 135 guests, and then took to the ballroom for a grand fête. There, they played up the romantic, regal feel of their venue with large arrangements of white and blush peonies, roses, ranunculus, and hydrangea, plus gold and rose gold décor, and plenty of candles. "Everything really turned out exactly the way we imagined it, if not even more so," Ardita says. "The day exceeded our expectations and nothing went wrong. We were so thankful."
THE DETAILS
Ardita's bouquet featured a tightly wrapped bunch of white and light pink peonies, garden roses, and ranunculus, adorned with a silk ribbon and a charm bearing a photo of her late brother, Albert.
The bride and groom had their first look outside the Elms, another nearby mansion. "All I was thinking about when I was turned the other way was, 'Make sure you look really good when you turn around.' I wanted her to look at me and be like, 'Wow,' but then I just turned around and instantly started sobbing," Victor recalls. "She was just so stunning and she means everything to me."
After trying on more than 100 dresses, Ardita opted for a custom off-the-shoulder gown with a 12-foot train that she accessorized with a 15-foot veil.
A little over an hour before the couple's ceremony was set to begin, golf ball-sized hail began to fall from the sky. The venue's staff suggested moving the ceremony indoors, but the bride and groom didn't want to abandon their vision. Then, about 30 minutes later, the storm stopped and the sun started to shine. "It really felt like a divine intervention," Ardita says. "The grass wasn't muddy at all, and everything was dry. Once our planner confirmed we could have the ceremony outside, we just ran and grabbed each other."
After the ceremony, Robert Burke, a Moët-certified sommelier, sliced off the neck of a bottle at the top of the steps behind the mansion as guests looked on. On their way inside for cocktail hour, family and friends then grabbed glasses of bubbly. "It really kicked off the whole celebration," Ardita says.
In the ballroom, the couple decorated tables with high and low votives, as well as tall floral centerpieces atop crystal stands with gold bases. For their sweetheart table, they chose a cascading garland. "We didn't want any greenery," Ardita says of the florals. "We didn't want it to look natural and organic. We wanted it refined and clean."
Ardita and Victor had their first dance to "Can't Help Falling in Love" by Elvis Presley, which the violinist played during Victor's proposal. The bride had dreamed of dancing to the ballad at her wedding since her dad first played it for her as a child.
Ardita and Victor drew inspiration for the design of their wedding cake, which featured tiers of vanilla sponge with strawberry filling and chocolate sponges with Snickers and fudge fillings, from their custom invitations.
The sweet tooth-endowed pair also set up a dessert table featuring doughnuts, fruit tarts, French macarons, and more.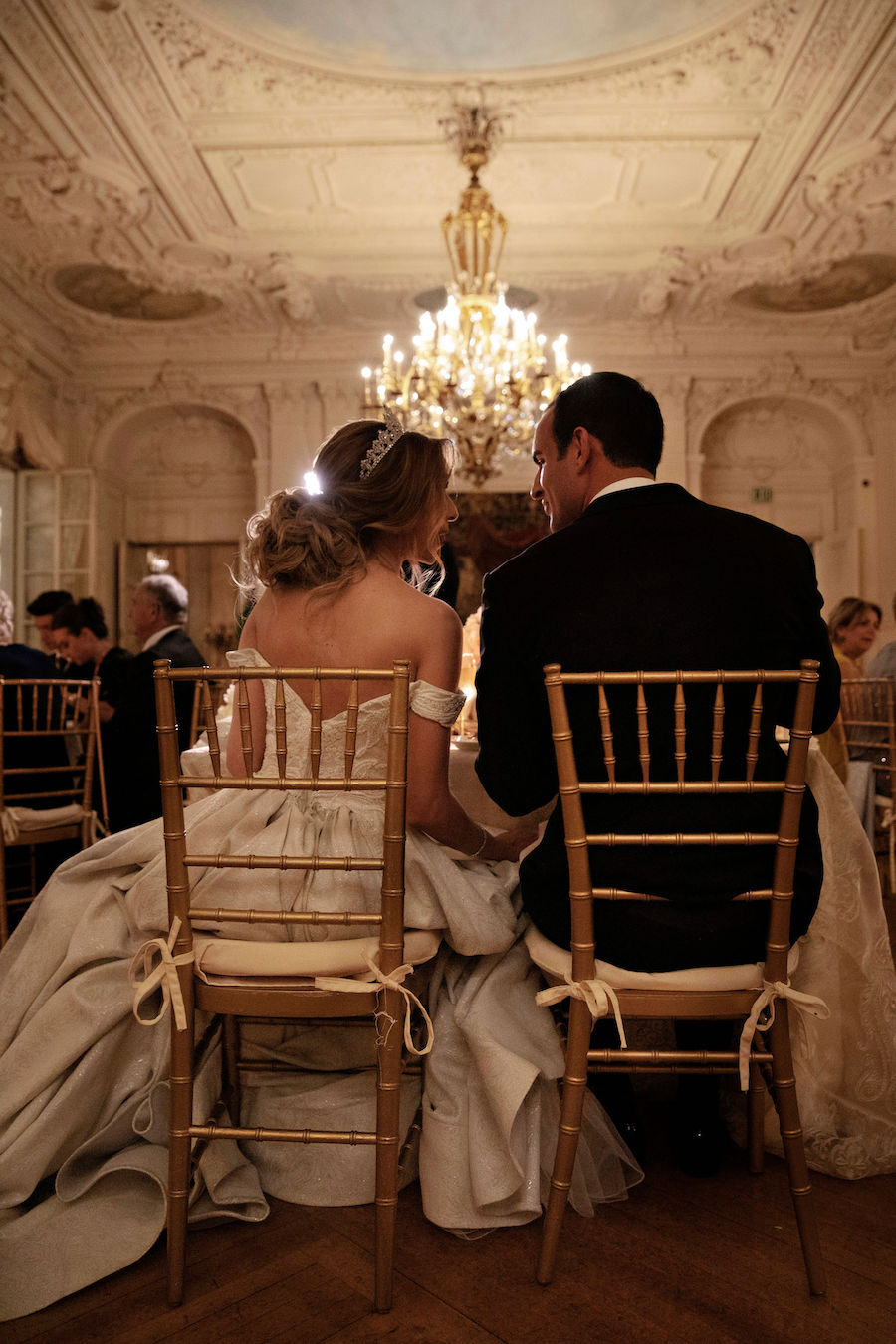 "When you're big planners, you kind of overthink things sometimes and try to control every single detail of the event. The fact that everything fell into place was amazing," Victor says of the day. "We made sure we were the last ones to leave and walked around Rosecliff just soaking it all in and appreciating that we pulled it off."
THE FILE
Band Grupi Muzikor Ceka
Bride's Dress Ryan & Walter
Cake/Desserts Confectionery Designs
Caterer Russell Morin Catering & Events
Champagne Saber Robert Burke
DJ Music Machine Entertainment
Flowers Sayles Livingston Design
Groom's Tux Giorgio Armani
Hair & Makeup Beauty by Pashka
Lasercut Signage FranJohnsonHouse
Marquee Letters Your Love in Lights
Photographer Adeline & Grace Photography
Planner Infinite Events
Rentals Peak Event Services
String Quartet Golden Scroll Soloists
Transportation A Formal Limousine; Viking Tours
Videographer AlbaPro
Getting married? Start and end your wedding planning journey with Boston Weddings' guide to the best wedding vendors in the city.
---
---