News
A Mild Winter Is Headed Our Way, says NOAA
Expect it to be a little warmer than usual this year, and a normal amount of snow, forecasters say.
---
There's no avoiding it anymore. We had literal frost this morning. Winter is, to paraphrase a certain TV show, on its way. But in case you need some talking down, a new forecast from NOAA says that at the very least, it won't be a nightmare this year.
The seasonal outlook from the National Oceanic and Atmospheric Administration says temperatures will be above average, meaning a mild winter is in store. Also, the science says snowfall should be about normal. Nothing special. Just how we like it.
Of course, that's just a prediction, and a rough one at that. NOAA can't say how much snow we'll get, or how low the temperatures might dip in a cold snap (remember how ridiculously [and beautifully] cold it got last winter?)
In November we favor above-normal temperatures for nearly the entire US. Odds increase for above-normal precipitation across the southern US and East Coast, while chances rise for below-normal precipitation for the Pacific Northwest through Northern Plains https://t.co/ZojpnSnk1D pic.twitter.com/ky1gRMNCzr

— NWSCPC (@NWSCPC) October 18, 2018
"NOAA's seasonal outlooks give the likelihood that temperatures and precipitation will be above-, near- or below-average, and how drought conditions are expected to change, but the outlook does not project seasonal snowfall accumulations," reads a disclaimer from the forecasters. "Snow forecasts are generally not predictable more than a week in advance. Even during a warmer-than-average winter, periods of cold temperatures and snowfall are still likely to occur."
Keep your eyes peeled for the next NOAA update on Nov. 15.
Still, there's plenty of time left to check things off on your fall bucket list. And as the thermometers start to dip, maybe make a commitment to learn to love the cold.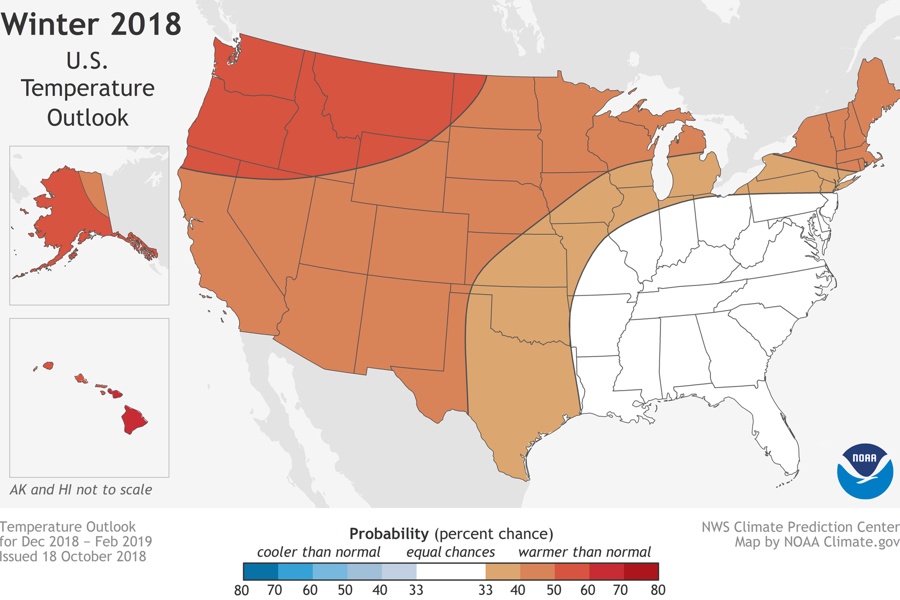 ---
---