Top Places to Live 2018: West of Boston
From Natick to Sudbury, here's where to find the last great deals west of the city.
---
THE DEAL
57 Westlake Rd., Natick
Asking price: $899,000
Sale price: $879,000
Days on market: 85
Size: 3,447 square feet
Bedrooms: 6
Bathrooms: 3
---
Natick
Angling to live in a reasonably large house within walking distance of a pleasant downtown, a weekly farmers' market, and a train station? Perhaps in a town where you can shop for stylish threads at Neiman Marcus in the morning and canoe Lake Cochituate in the afternoon? There's no order too tall in Natick, where proximity to Boston is just the cherry on top. Buyers willing to stray from charming Natick Center should take a closer look at South Natick. "You have larger parcels of land and more of that rural feeling," says Diane Sullivan of Coldwell Banker. South Natick also offers easy access to the Charles River for kayaking in summertime. And during the rest of the year, Natick's students enjoy a shining new high school, which opened in 2012.
Ashland
As the second town on the Boston Marathon route, Ashland seizes the spotlight every spring. But its bargains are grabbing attention year-round—and these aren't fixer-uppers. "Ashland has grown tremendously in the past 20 years, so homes are newer and neighborhoods are thoughtfully planned," says agent Pamela Bathen of Oak Realty. There's a diverse inventory, too, Bathen says, including eye-catching single-families asking less than $600,000. And Ashland recently reinvigorated its downtown by transforming an underutilized parcel into a home for pop-up businesses called the Corner Spot. Modeled loosely after Boston's Lawn on D, it boasts green space with oversize swings and Adirondack chairs. "Two of our buyers last fall chose this town after driving by the Corner Spot and farmers' market and seeing what a full, rich life they could have," Bathen says.
Harvard
Not to be confused with the prestigious university, Harvard is a small town in the rural reaches of Greater Boston that may well help your kid matriculate in Cambridge someday—it offers a highly rated school system at a much lower price than nearby suburbs like Lincoln and Concord. "You're definitely getting more value than you would a little bit east on the Route 2 corridor," says Jenn Russo, an agent with Coldwell Banker. A mere $238 per square foot buys you more bedrooms, more living space, and more land. If you care to venture beyond your own spacious yard, the town has blazed dozens of trails for hiking, biking, walking, snowshoeing, and other activities. And 210 acres of meadows and woods are yours to explore at the Fruitlands Museum, which also has artworks and artifacts on view on the site of a former experimental utopian community.
Sudbury
If you don't mind a drive, there's a deal waiting for you in Sudbury. "When the market crashed just as President Obama took office, buyers took to the inner suburbs like Arlington, Lexington, and even Waltham where public transportation is excellent," says Keller Williams agent Anne Hollows, explaining that prices in highly commutable towns have appreciated much faster than those in Sudbury. "So as the pendulum swings back, some of the outer suburbs like Sudbury start looking like great value. And we are." There's no train to hop on, but there are wide-open spaces, the top-notch Lincoln-Sudbury school district, a brand-new Whole Foods, and those hearty New England dinners served up at the historical Wayside Inn—all for a median price per square foot of $261, according to real estate analytics firm NeighborhoodX. Driving down a few back roads to get to work hardly seems like a tradeoff.
---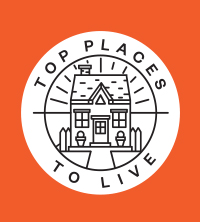 See more from Top Places to Live 2018.
The Boston Home team has curated a list of the best home design and home remodeling professionals in Boston, including architects, builders, kitchen and bath experts, lighting designers, and more. Get the help you need with FindIt/Boston's guide to home renovation pros.
---